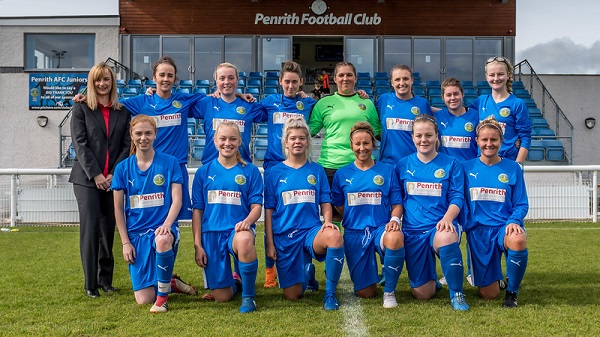 With Christmas looming Penrith made one of their longest away trips of the season to face current league leaders Tranmere Rovers at the Ellesmere Port Sports Complex.
With several players unavailable the Penrith squad was stretched and they kicked off with a degree of trepidation.
Youngster Hope Lawson came in as keeper and Hannah Fawkes switched from left back to a central defensive role.
Penrith started the game well and were competing well all over the pitch while maintaining good defensive discipline.
Tranmere were dominating possession however rarely threatened the Penrith goal in the first half with the game remaining goalless at the break.
HT 0-0
Into the second half Tranmere eventually made the breakthrough in the 50th minute after they got behind the Penrith defence down their left wing and pulled the ball back to be finished.
Tranmere continued to dominate possession however Penrith remained very disciplined defensively and despite the tiring limbs they stuck to the task.
Young keeper Hope Lawson had an inspired performance while defenders Livvy Johnston, Kim McCormick, Hannah Fawkes and Becca Alderson deserve a lot of credit too.
Attack wise Penrith's lone striker Becca Buchanan worked her socks off however to be fair Penrith rarely threatened.
Tranmere extended their lead in the 80th minute and deserved the points however Penrith will take many positives form the nature of their performance and the character shown by their players.
FT 2-0
Penrith: Lawson, Smethurst, Alderson, Han Fawkes, McCormick, Hea Fawkes, Johnston, Coulthard, Buchanan, Hopton, Campbell.