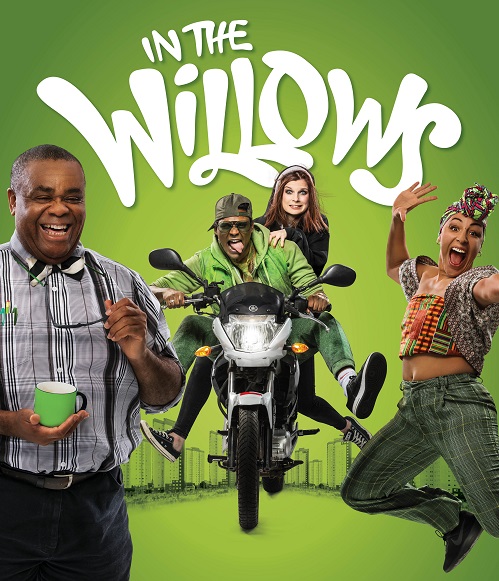 The UK Tour of Metta Theatre's new hip-hop musical In The Willows, starring Clive Rowe, street dancer Chris Fonseca and Let It Shine's Matt Knight, is reaching out to young Cumbrian performers to appear onstage in the production during its run at Theatre by the Lake, from 2 to 6 April.
Beginning with a free hip-hop dance workshop from leading dancer Sheila Attah on Sunday 17 February from 11am to 12.30pm (open to all levels including beginners and performers with access needs), successful performers aged 17-25 will have the chance to perform onstage alongside some of the country's leading musical and hip-hop performers.
The production is also encouraging D/deaf performers to apply, as the show will incorporate British Sign Language (BSL) into the choreography for a unified live experience for D/deaf and hearing audiences alike. The audition process will take place at selected regional workshops, detailed at: www.mettatheatre.co.uk/workshops
In The Willows tells the story of Mole's arrival at her new school, The Willows. Under the watchful eye of Mr Badger she's in safe hands. But even with her new friends – hip-hop cool girl Rattie and rich kid Toad – teaching her the ways of the streets, can they overcome the fearsome Weasel Grime crew terrorising the neighbourhood?
Olivier award-winning actor, 'the nation's favourite pantomime dame', and star of BBC's The Story of Tracey Beaker, Clive Rowe will star as 'Mr Badger' in the UK tour of the show. The cast also includes deaf street dancer Chris Fonseca ('Otter'), Let It Shine singer and performer Matt Knight as 'Chief Weasel', Katherine Picar as 'Bitchy Rabbit', and dancer Sean Moon as 'Snitchy Rabbit', with further casting to be announced soon.
In The Willows transforms Kenneth Grahame's well-loved tale into a thrilling new hip hop musical, written and directed by Poppy Burton-Morgan (Jungle Book, UK & International Tour), with music from award-winning composer Pippa Cleary (The Secret Diary of Adrian Mole, Chocolate Factory; Prodigy, St James Theatre) and groundbreaking hip-hop Composer Keiran Merrick, set and lighting design by William Reynolds, costume design by Ryan Dawson Laight (Blak Whyte Gray, Barbican), and with choreography from Rhimes Lecointe (Associate choreographer for Zoo Nation, and Artistic Director of Boadicea).
In The Willows is produced by Metta Theatre and Exeter Northcott Theatre, supported by the Arts Council Strategic Touring Fund. The production tours to Theatre by the Lake's Main House from 2 to 6 April, with tickets at £15 and £24 (students and under 16s half price). To find out more visit www.theatrebythelake.com or call the Box Office on 017687 74411. The free hip-hop workshop for 17 to 25 year olds is on Sunday 17 February from 11am to 12.30pm; sign up at www.mettatheatre.co.uk/workshops