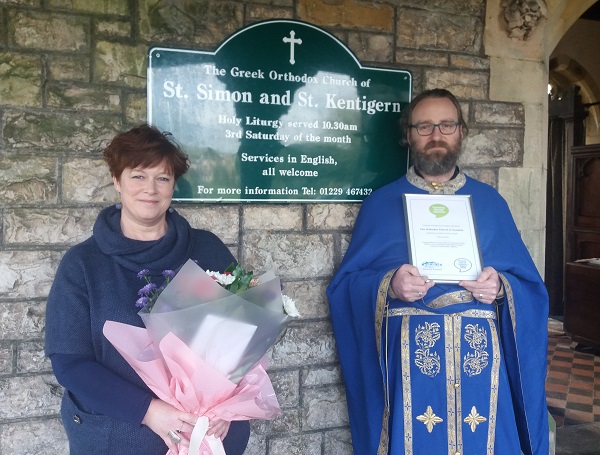 One of Cumbria's smallest churches, the St Simon and St Kentigern Orthodox Church in Dalton, is the latest church to become fostering friendly.
The small Orthodox community meets on the third Saturday of every month at the Cemetery Chapel in Dalton at 10.30am and would welcome new members.
Cumbria County Council foster carer Dawn Limitsios is a member of the church and knows how important it is for foster carers across the county to have as much support as possible, when carrying out their important role.
She said: "We have been a fostering family for just short of nine years. We feel privileged to love, nurture and support all the little ones who have come to us over the years. It is so rewarding to watch them develop and flourish while with us.
"We have been members of the St Simon and St Kentigern orthodox church since we moved to Barrow 15 years ago. They have been with us through our whole fostering journey so far. All of our little ones have come to church with us and been welcomed by everyone."
Cumbria County Council's Fostering Friendly Churches scheme was launched last September as part of its ongoing drive to recruit more foster carers for vulnerable children across the county.
Foster carers have an important role and the scheme asks local churches to help provide them with a network of support that allows them to change the lives of the children in their care.
The council also hopes that churches who sign up to the scheme will celebrate fostering and foster carers through their prayers and sermons and by participating in campaigns such as the annual celebration of fostering, Foster Care Fortnight, which this year takes place from May 13 to 26.
Claire Lloyd, Fostering Service Manager at Cumbria County Council, said: "We're delighted to welcome our first Orthodox Church into our Fostering Friendly family.
"Local churches can make a huge difference to the lives of foster carers in Cumbria and the children they care for and I would like to thank St Simon and St Kentigern Orthodox Church in Dalton for lending their support to our scheme."
For more information on fostering go to www.cumbria.gov.uk/fostering or call 0303 33 1216 or attend an information event in your area:
Friday March 15 – Information stand at Booths supermarket, Ulverston from 12pm to 3pm
Tuesday May 14 – Foster Care Fortnight stand, Tesco Extra, Barrow from 11am to 1pm
To find out more about becoming a Fostering Friendly Church please email [email protected]