The newly elected public and staff governors for Cumbria Partnership NHS Foundation Trust are now in place.
The successful candidates were elected by members in their geographical area, or achieved a place uncontested. They started their term on 2nd January 2019.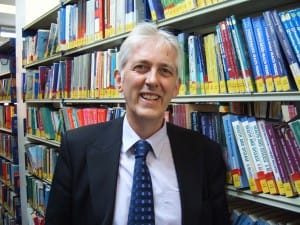 Professor Robin Talbot, Chairman of the Trust said: "I am delighted to congratulate the re-elected and newly elected Governors on their successful elections, recognising the range and wealth of skills and experience they bring to the role and am much looking forward to working with them.
The role of Governors in our Trust is critically important. They provide the vital link to the community we serve through the members who elect them and I and the Board of the Trust are accountable to them for our conduct of the business of the Trust."
The Governors Council represent the views of local people to the Board of Directors and give advice on issues such as priorities for forward planning. Its meeting are held in public and its members also have key responsibilities including the appointment or removal of the Chair and Non-Executive Directors and approving the appointment of the Chief Executive.
The following Staff and Public Governors were re-elected unopposed:
Les Blacklock, Staff Governor Allerdale and Copeland
Les said: "As a staff Governor I have consistently represented our staff by holding the Non-Executive Directors and Board to account. Skills that I bring to this role are life skills, negotiating skills and many years of representing working people in various formats."
Kevin McVeigh, Staff Governor Furness and South Lakeland
Kevin said: "I believe I can add a strong voice to ensure that the potentially momentous changes ahead consider everybody. I have been a governor now for three years, and I am not afraid to challenge misconceptions and raise the voices of those affected by change."
Mike Taylor, Public Governor Eden
Mike said: "Governors play a key role in ensuring that the Trust Board and the Executives deliver the best possible health services, within their finite resources, to the county. Embedded in their community Governors are able to reflect the health and social needs of their community and ensure that they are properly addressed by the decision makers in the Trust.  I am particularly interested in Community and Mental Health services."
Ballots were held for Public Governors in Copeland and South Lakeland.  The following governors were elected:
Keith Amey, Public Governor Copeland (continues in his Deputy Lead Governor role and this is his 3rd term of office)
Keith is a Chartered Engineer and Company Director with a background in hi-tech innovation, company trouble shooting and change management. Drawing on his experience as a trouble-shooter he takes an active interest in community hospital assessments, such as PLACE (Patient Led Assessments of the Care Environment) as he likes to be assured that staff are happy. Happy staff, he believes, greatly reflects on the quality of patient care, the general atmosphere and well being of our hospitals.
Carole Woodman, Public Governor Copeland
Carole is a member of the West Cumbria Community forum and helped set up Cumbrian's Voice for Heath Care. She set up Egremont Youth Partnership, an independent charity, with a specific session for young people with learning difficulties aged 16-30. She has been a foster carer and has an adopted son with learning difficulties, Type 1 diabetes and a rare degenerative condition that has shown her the challenges of navigating the health care system across all the different specialities involved in his care.
Shahnaz Asghar, Public Governor South Lakeland
Shahnaz is interested in the overall patient and public experience; wanting to make sure that every single person that goes through our hospital system is happy with their care, feels safe and comfortable with our staff and facilities. She also wishes to highlight the importance of our staff, making sure they are heard. The best way to improve our hospital is by listening to the people and taking these remarks up to the Governors Council in order to see real changes.
George Butler, Public Governor South Lakeland
George said: "My entire career has been involved in nursing and nurse education. My main motivation in securing election as a Governor is doing what is best for patients, by ensuring we have a skilled workforce competent to meet their daily needs in both hospital and at home."
All new governors started their new one year term on 2 January 2019 and their full biographies can be found on the Meet Your Governor page of the website.