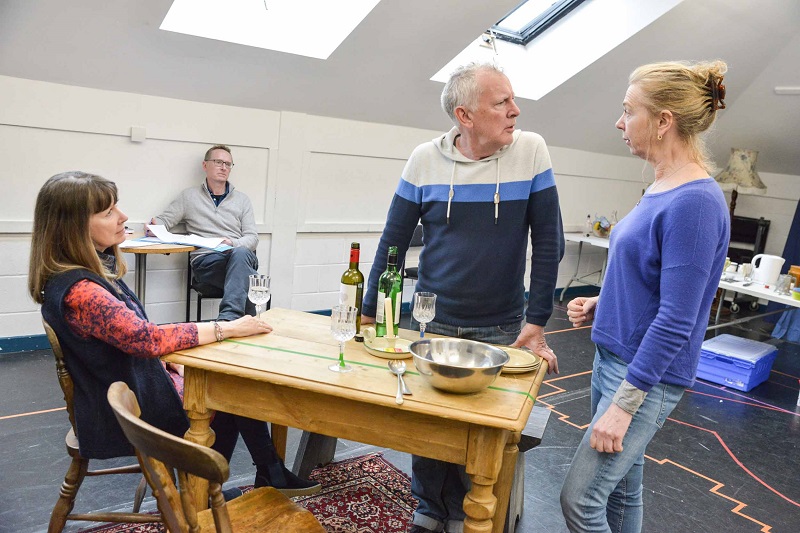 The first of 2019 Summer Season's two regional premieres, Theatre by the Lake is proud to present The Children by Olivier Award-winning playwright Lucy Kirkwood, opening in the theatre's Studio on 6 June.
The Children premiered at the Royal Court in London in 2016 to great critical acclaim, followed by a Broadway transfer where it received two Tony Award nominations. Theatre by the Lake's production is directed by Stefan Escreet, former Associate Director of TBTL, and features Patrick Driver, Rachel Laurence and Maggie O'Brien.
Former nuclear scientists Hazel and Robin are enjoying the quiet life, feeding the cows and practising yoga, while the world around them is descending into chaos following a nuclear catastrophe. When an old colleague arrives on their doorstep harbouring a deadly secret, the fallout will be explosive.
Global issues sit side by side with everyday domestic squabbles, in a riotous fusion of irreverent wit and gripping drama.
Inspired by the Fukushima nuclear explosion, the play feels particularly topical in the wake of recent demonstrations by schoolchildren calling for action, and Swedish 16 year old Greta Thunberg's challenge to politicians regarding the legacy being left for her generation: "You say you love your children above all else, and yet you are stealing their future in front of their very eyes." The Children opens up the complex debate about just what we should be doing for future generations, and the thorny issue of responsibility.
Director Stefan Escreet said: "It's rare to find a play that asks the big questions we are all facing with such warmth, wit and wisdom. The Children has a story particularly resonant for our region and it will be thrilling to present these three passionate characters in the immersive intimacy of the Studio."
Patrick Driver and Rachel Laurence are also performing in The Ladykillers, with Maggie O'Brien also performing in My Mother Said I Never Should, both of which opened in May. From 1 August all three cast members go on to perform in their third production of the Summer rep – Dear Uncle.
The Children plays in Theatre by the Lake's Studio from 6 June to 1 November. Tickets are priced from £10; for more information and to book tickets visit www.theatrebythelake.com or call the box office on 017687 74411.