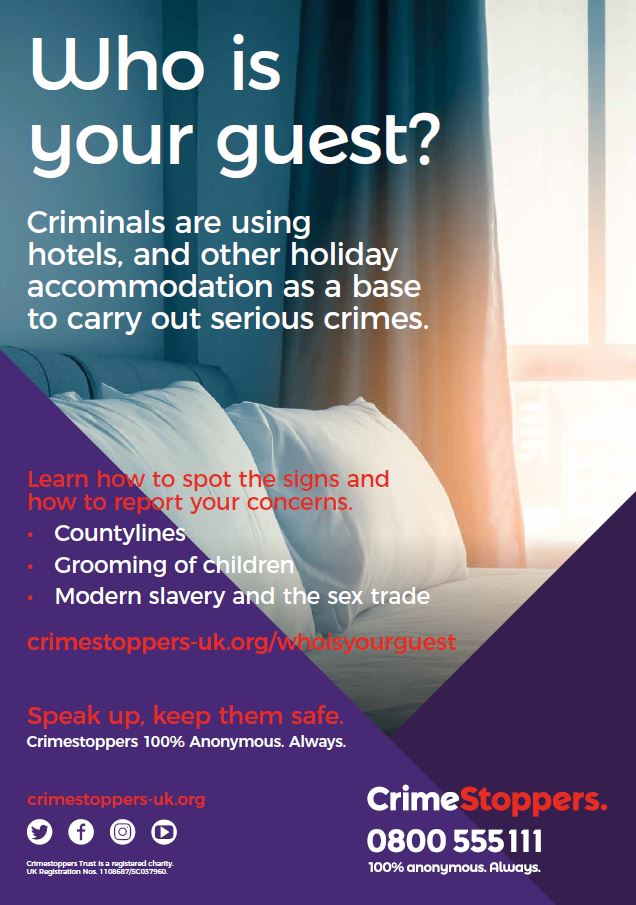 A new campaign is being launched by the charity Crimestoppers in Cumbria to make those in the hospitality industry aware that criminals are using hotels, caravan parks, and other rental accommodation as a base to carry out serious crimes.
The majority of visitors to the area come to enjoy the lakes and mountains, but a small number travel to carry out serious offences and exploit vulnerable people.
Often staff in the hospitality sector may have concerns about what they are see or hear, but are not sure what to do next.
Leaflets and posters will be distributed to local accommodation providers for display in staff areas and there will also be a targeted social media campaign.
Our charity is encouraging staff to learn how to spot the signs, be brave and raise their concerns with the owner, their manager or local law enforcement.
If they wish to remain 100% anonymous, they can contact Crimestoppers; the information they have could save a life, safeguard a vulnerable young person, stop a violent attack or disrupt a drugs or human trafficking gang.
What type of crimes may be taking place?
County Lines – Criminals use hotels, guest houses, caravan parks or rental properties as a base to distribute drugs or recruit local vulnerable young people to act as couriers and set up a County Lines operation.
Internet grooming – Adults bringing young girls or boys who they have groomed online to your property to abuse them.
Modern Slavery and the sex trade – Criminals bringing young women or men to your premises. Many of them are from overseas and have been forced into prostitution. Generally, it is men who have booked them for their services over the internet.
Theft and burglary – A shoplifting ring who have travelled to the area for a few days to target local shops, a burglar who is targeting local homes, or someone stealing high-value cars.
A list of signs to look out for can be found on the campaign page on our charity's website: www.crimestoppers-uk.org/whoisyourguest
Gary Murray, North West Regional Manager for the charity Crimestoppers, said: "Cumbria is one of the safest and most beautiful parts of the UK, but we know criminals are travelling to or passing through the area to commit serious crimes. The exploitation of children and vulnerable adults is truly worrying."
"Our charity believes everyone has the right to feel safe from crime and we need the help of staff within the hospitality sector to protect those who are most vulnerable from exploitation. I would encourage them to take the time to learn how to spot the signs so that they are aware of what may be happening and have the confidence to report what they see."
"When you contact Crimestoppers we won't ask your name. Won't judge. Just listen to what you know. When you hang up the phone or click `send', you're done. In over 31 years, our charity has always kept its promise that everyone who contacts us stays 100% anonymous. Always."
To stay anonymous contact the independent charity Crimestoppers on 0800 555 111 or online www.crimestoppers-uk.org.
If you feel that someone is in imminent danger and needs help straight away or if you wish to talk to the police, please contact the police on 101.