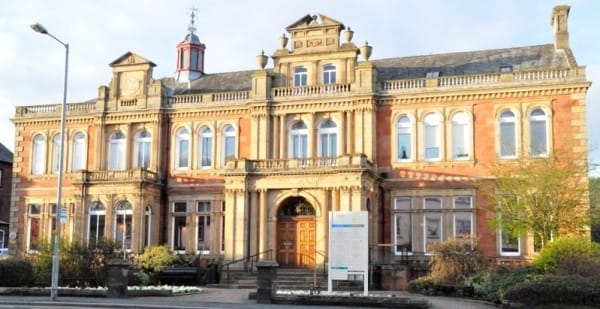 [T]he commercial arm of Eden District Council, Heart of Cumbria Ltd (HoC) is bidding to purchase 86 affordable dwellings from Persimmon Homes.
The properties are to be constructed at the Carleton Meadows development in Penrith up until 2025.
As part of the planning conditions for the housing development at Carleton Meadows in Penrith, Persimmon Homes have to provide an allocated number of affordable dwellings. Providing more housing is an Eden District Council corporate priority, with over 900 local people on the waiting list for social housing.
At a full Council meeting tonight (13 July 2017), District Councillors (who are the shareholders of HoC) agreed to support the company bidding for the affordable homes.
The Chairman of Heart of Cumbria Ltd, Councillor John Owen MBE (Eden District Council's Development Portfolio Holder) said: "This is an exciting development for the Heart of Cumbria Ltd to bid for much needed affordable housing in Eden. By working more commercially, we can potentially help to realise a long-term Council's priority, but also derive an income stream to support and develop services our resident's value."
District Councillors chose to support HoC bidding for the affordable homes, because a Council bid would have meant:
Separate financial and administrative systems being needed to manage the affordable dwellings which could have been complex and expensive to implement;
Monies received from the investment in the affordable housing would be ring fenced for use by the Council's housing service and not available to support other services or projects;
That tenants of the housing stock would have the 'right to buy' the dwellings and this could mean a loss of the Section 106 affordable dwellings being available to future generations of people in housing need;
The level of rent setting the Council would have to operate within could have impacted on the financial viability of any investment;
Eden District Council on 8 September 2016 agreed to set aside £1.292m for housing projects, which the Council could use directly itself or loan to HoC for approved projects. If Persimmon Homes approves HoC's bid, money could be directed to start purchasing the properties with the remainder of the money needed being approved by the Council at a later date.
Councillor John Owen MBE, added: "The Council owns HoC and has a controlling number of Directors on the Board. If Hoc's bid is accepted by Persimmon Homes, a fixed charge will be made against every dwelling purchased to secure it and protect any Council financial investment. A commercial rate of interest will be charged to give the Council a return on its investment. We now wait and see if our bid to Persimmon Homes is accepted."
The affordable housing element of the Carleton Meadows developing would be built out in the following numbers up until 2025 by Persimmon Homes:
2017/18 3 dwellings
2019      12 dwellings
2020      13 dwellings
2021      20 dwellings
2022      11 dwellings
2023      10 dwellings
2024        9 dwellings
2025        8 dwellings
Eden District Council's Deputy Leader and Housing and Health Portfolio Holder, Councillor Lesley Grisedale, said: "The delivery of affordable housing in Eden District is largely dictated by the vibrancy of the housing market. During the past few years the Council has been able to secure more affordable housing from developers through Section 106 agreements. The demand for social housing for rent or affordable homes to buy in Eden remains high as house prices and rents out strip local wage levels.
"The resilient financial position of the Council means through HoC we have the means to potentially secure the housing provision our residents need and retain these assets into the future. More receipts from Section 106 Agreements are coming into the Council in the near future to help fund this type of initiative."
For more information about Eden District Council visit www.eden.gov.uk.
For more information about Heart of Cumbria Limited email: [email protected]