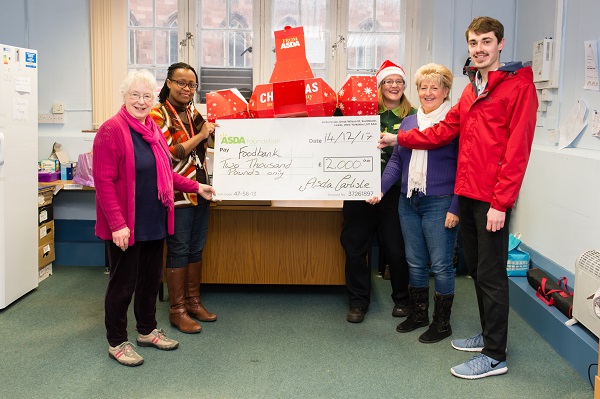 [C]hristmas has come early for Carlisle Foodbank, after a generous donation from Santa's little helpers at Asda Carlisle.
Carlisle Foodbank has been recognised for their work in the local community by Asda Carlisle store's Community Champion, Niki Iveson, who has secured £2,000 to help the organisation.
The store has donated a cheque, as well as a number of food, drink, and toiletries items that are in demand on the charity's shopping list.
The Christmas community campaign is celebrating the hard work – that often goes unrecognised – of the volunteers, carers and fellow Asda colleagues who dedicate their own time and efforts to helping other people.
Supported by grants from the Asda Foundation, its aim is to help spread festive cheer in local communities throughout December, helping to fund Christmas parties for those who may need a little extra support this Christmas time.
Niki Iveson, Community Champion for Asda Carlisle, said:  "Carlisle Foodbank is absolutely brilliant – the team are real local heroes who do so much within the community.
"It's a privilege to be able to bring some Christmas joy to the people in our community who need it most at this special time of the year.
"Carlisle Foodbank relies on the local community's generosity to provide food for people in crisis, and Asda hope that the donation will hopefully go a long way to helping those who need it most in our local community."
Jessie Luvai from Carlisle Foodbank, added: "We work with community groups, voluntary groups and faith groups to support people in the Carlisle area.
"We rely on voluntary support to make the Carlisle Foodbank work, so we'd like to say a huge thank you to Asda for this donation which will really help those in the community who need it most over the Christmas period and beyond."
Lynne Mycock, Asda Carlisle Store manager, said: "This Christmas, as part of Asda's mission to reward those who have gone above and beyond, the Asda Foundation is investing thousands of pounds to reward the year-round work of local heroes in the community who help improve the lives of others in their local area.
"We see the Foundation as one of the many ways to give something back to the communities that support us. That's why we lend a hand to the wide range of good causes with which our colleagues are involved, sharing their passion and helping to make a difference through a variety of projects across the UK."
Set up in 1988, the Asda Foundation is a registered charity that aims to have a positive impact on local communities, making independent grants to provide support to a range of local good causes, chosen by Asda's community life colleagues throughout the UK.
It funds charitable projects and activities what have the ability and potential to achieve change for the better – with the aim of making a significant difference to local communities and the people who live there, both now and in the future.