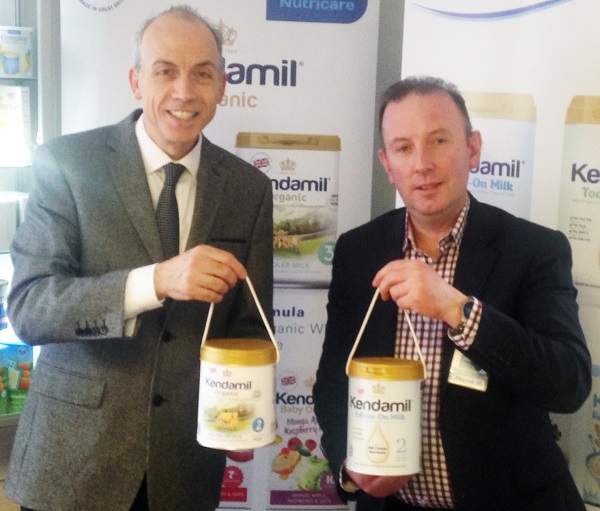 [M]ore investment is planned at a Kendal firm following a successful trade mission to China with Prime Minister Theresa May earlier this year.
During a visit to Kendal Nutricare, Britain's only manufacturer of Infant formula, yesterday (13 March) councillor James Airey, the Conservative's parliamentary spokesman for Westmorland and Lonsdale, heard from the firm's Chief Executive Ross McMahon about plans to invest £3.5 million in new, high-tech machinery at the Kendal site over the coming years.
Mr McMahon also explained more about 25 new jobs which are planned for Kendal following the trade mission which helped secure a new £85 million contract for the Infant formula brand Kendamil.
Kendamil is a traditional infant formula recipe based on using natural full cream milk fats sourced from red tractor accredited farms around the Lake District competing against imported formulas based on skim milk and vegetable oils. The new jobs will include roles in research and development, as well as laboratory and engineering posts.
Councillor Airey also heard about Kendal Nutricare's hopes to break into new markets in the United States and Latin America in the autumn and plans to launch a Kendalife range of complete meal replacements.
Following his visit to Kendal Nutricare, councillor Airey said: "I was really encouraged to learn more about Kendal Nutricare's plans for jobs and investment in the town following the success of the Prime Minister's trade mission to China earlier this year. Winning new business for our area from across the world is key to securing the jobs and prosperity which young people and families in our area need.
Ross McMahon said: "I was delighted to welcome James Airey to Kendal Nutricare. The Government trade mission to China was a huge success and today's visit was a great opportunity to talk more about our plans to bring investment to Kendal from new markets across the globe."