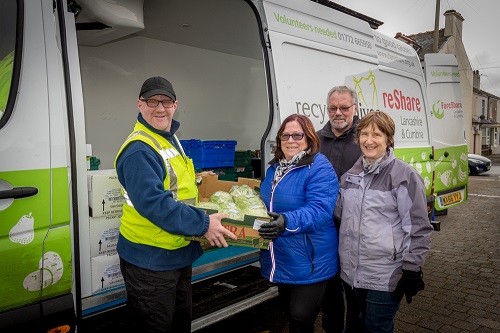 A food charity has opened a new base to deliver meals to communities in North Cumbria.
Recycling Lives is delivering food to the Harraby Community Centre in Carlisle, for charitable groups to collect goods to make meals for communities.
Member groups receive a range of fresh, frozen and luxury in-date goods which is surplus from supermarkets and food suppliers.
The first 18 local groups receiving food via the community centre include Carlisle Youth Group, Little Luvs Nursery and Meals On Wheels. Paying a modest monthly fee, these Community Food Members (CFMs) will save an average of £7,900 on food costs annually through membership.
Recycling Lives runs the food redistribution programmes in partnership with national charity FareShare, redistributing up to 13,000 meals a week to feed 9,000 people across Cumbria and Lancashire and diverting hundreds of tonnes of surplus food from becoming waste each year.
It has been supported by Cumbria County Council and Harraby Community Centre to open the Local Collection Point (LCP) as part of the expansion of its Food Redistribution Centre, based in Lancashire.
It already delivers goods to LCPs in Cleator Moor near Workington and Rheged near Penrith, supporting a total of 46 groups across the county.
Jeff Green, manager of Recycling Lives food redistribution programme, said: "We're really proud to be able to support community groups in the Carlisle area to be able to deliver fresh, quality food. Our work is about more than just food. The goods we deliver allow groups to make savings, invest their resources in other services, expand their offer to communities and feed disadvantaged and vulnerable communities; allowing them to do even more great work to help others."
Recycling Lives opened its first LCP in Cumbria, in Cleator Moor, in October 2017, since delivering more than 54,000 meals to groups. It has delivered more than 19,000 meals to its second LCP in Rheged since opening in December 2017.
Its Food Redistribution Centre has delivered more than 2.5million meals to date, supporting more than 160 groups across the two counties, including homeless shelters, hospices, breakfast clubs and community centres.
Recycling Lives is a unique organisation, combining a recycling business and three charitable programmes redistributing food, rehabilitating offenders and supporting the homeless. It began its expansion into Cumbria, investing £250,000 into a recycling facility in Workington and creating a number of new local jobs, after its business won a contract to process metal from Sellafield Ltd.
To become a CFM and make collections from the LCP at Harraby Community Centre, contact:  01772 665958 or visit: https://www.recyclinglives.com/social-value/food-redistribution