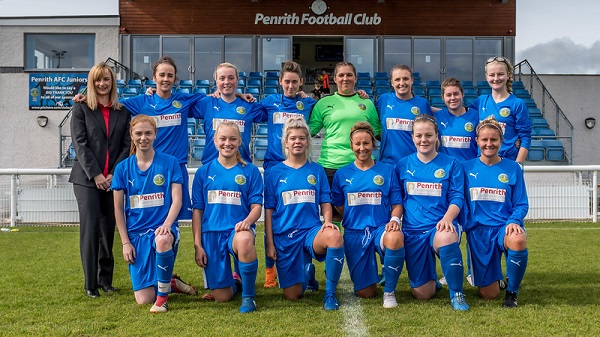 Penrith travelled to Liverpool to face Merseyrail Ladies in their latest NW Women's Premier Division game.
The game was played at an excellent newly completed 3G Astro turf facility. This large, and perfect playing surface really did suit Merseyrail's passing game and they took full advantage, totally dominating the first half.
Despite Penrith's best efforts they spent much of the first half chasing the ball as Merseyrail passed the leather off the ball. Merseyrail deserved their 3-0 half time advantage and it appeared Penrith had a long afternoon ahead.
Into the 2nd half Penrith introduced Lauren Ullyart and Hannah Coulthard and this brought instant improvement into the midfield area.
Merseyrail continued to play well however Penrith were now competing better and at least making a fight of it.
Merseyrail extended their lead before Penrith hit back with well taken goals from Georgia Campbell and Hannah Coulthard.
FT 6-2
This Sunday Penrith welcome Mossley Hill Ladies to Frenchfields Park. 2pm KO.
Penrith : Jones, Alderson(Ullyart), Han Fawkes, C.Smith, McCormick, Hea Fawkes(Coulthard), Johnston, Campbell, Robinson, Hopton, Gaulton.