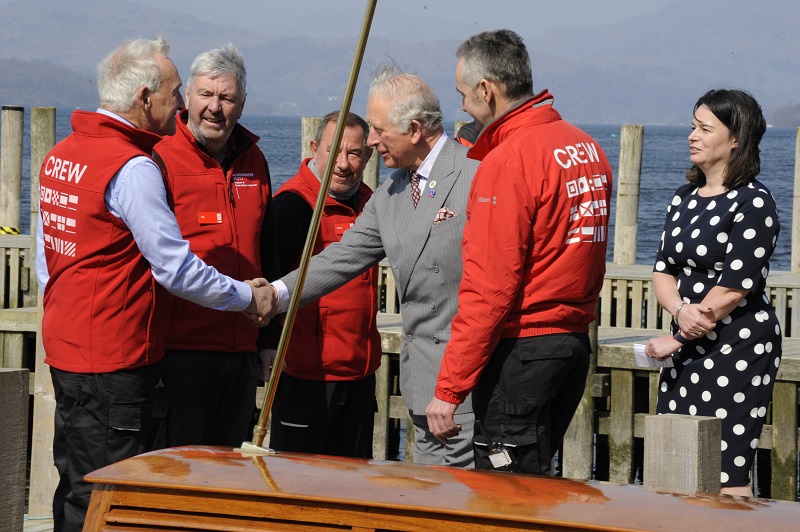 Today [Monday 8 April 2019] His Royal Highness, The Prince of Wales officially opened the new Windermere Jetty Museum of Boats, Steam and Stories in the Lake District. The museum opened to the public on 23 March following a £20million development by Lakeland Arts working with award-winning architects Carmody Groarke and exhibition designers Real Studios.
Upon arrival, His Royal Highness, The Prince of Wales enjoyed a Windermere folk song performed by local school children, before being greeted by Mrs. Claire Hensman, Lord Lieutenant for Cumbria who presented Martin Ainscough (Chairman, Lakeland Arts), Rhian Harris (Chief Executive, Lakeland Arts) and Liz Moss (COO, Lakeland Arts).
His Royal Highness was then given a tour of the new museum which tells the story of 200-years of boats, boating and boat building in the Lake District through its internationally significant collection that reflect themes of technical, social and business development in one of England's most picturesque settings.
During the tour HRH viewed Branksome, the boat which he sailed aboard when opening the previous museum on the same site, Windermere Steamboat Museum, in 1977. Built in 1896 Branksome is the flagship of the Windermere Jetty collection and is one of the finest surviving steam launches in the world. Branksome also had the honour of carrying the Duke of Edinburgh during his visit in 1966.
HRH then met the conservation team including staff and volunteers in the Conservation Workshop, where he saw the work they are undertaking to enable additional vessels from the nationally important collection to go on display both on and off the water. Following a walk through the Boat Yard, HRH stepped out onto one of the museums jetties to see Edwardian steam launch Osprey, originally built as a private pleasure boat in 1902, fully steamed and back on the water having been restored by the conservation team.
HRH concluded his visit with a reception in the café before unveiling a commemorative slate plaque overlooking the Lake.
For further information please visit www.windermerejetty.org.