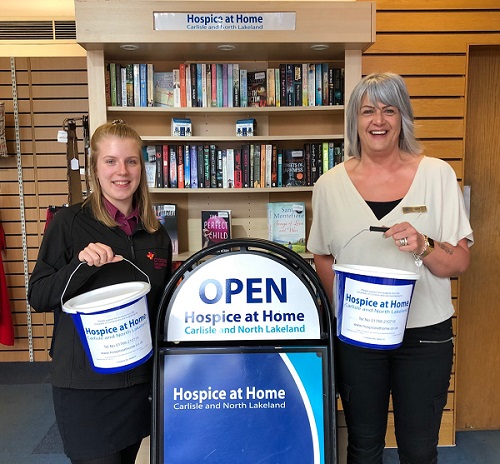 A Carlisle based Occupational Health company is celebrating ten years in business by spending time volunteering with local charities during July.
The volunteering is just one of 10 activities that have been planned as part of a '10 in 10' programme running from September 2018-19. Each activity represents one successful year of business. As well as volunteering, the team have organised a staff wellbeing afternoon, a Wainwright's walk and are trying their hand at various creative activities.
Sandra Holliday, Choose Occupational Health's Managing Director has chosen to volunteer at Carlisle Key, a charity working with young homeless people in the city. Other staff members have chosen to work with other local charities including; Hospice at Home Carlisle and North Lakeland, Carlisle Foodbank, Eden Valley Hospice and Oak Tree Animals' Charity.
Choose Occupational Health is a local family run occupational health business covering Cumbria. They strive to deliver quality, independent and personalised Occupational Health Services for businesses and organisations throughout the county regardless of location, size or sector. Services include absence management, health screening and surveillance and counselling support.
Sandra said, "As a business, our focus is always on well-being and as such we recognise the huge benefits that volunteering can have on an individual's personal mental health. In 2015 we were badly affected by the floods and had to move out of our offices. We received many offers from friends and other businesses to help us get back on our feet and we will never forget their kindness. Receiving support from others can never be under-estimated. Rather than a party for the team to celebrate ten years in business it felt more in line with our values to give something back to our local community so I offered staff some time to work with a local charity or support organisation of their choice. Further volunteering initiatives are currently in development."
Jess Law, Office Administrator, who lives in Carlisle, asked to spend time with Hospice at Home Carlisle and North Lakeland. She will be helping with a collection day on Friday 5th July in Carlisle city centre.
Jess commented, "I am really pleased to be giving something back to Hospice at Home. They helped to care for my Dad and provided support to my family at a difficult time; I appreciate all the work that they do."
Hospice at Home added, "Hospice at Home are so grateful that Choose Occupational Health will be volunteering with us. Without the kindness and support of volunteers we would not be able to care for local patients, families and carers."
The volunteering activities will be taking place throughout July – watch out for the team members in their Choose OH branded jackets and please show them some support.
For more information on Choose Occupational Health and the services they provide, visit their website www.chooseoccupationalhealth.co.uk