Dragon Bay, the annual charity dragon boat event held on Windermere, took place on Sunday 7th July, with a record number of team entries. The event, launched by Paddlers for Life Windermere, has grown year on year with the support of CBA Events.
CBA Events, based in Keswick, changed the format of this year's event with the approval of Paddlers for Life. 100% of the event running costs we're covered by CBA Events, meaning every penny raised goes to each team's charity of choice with a contribution going to Paddlers for Life Windermere.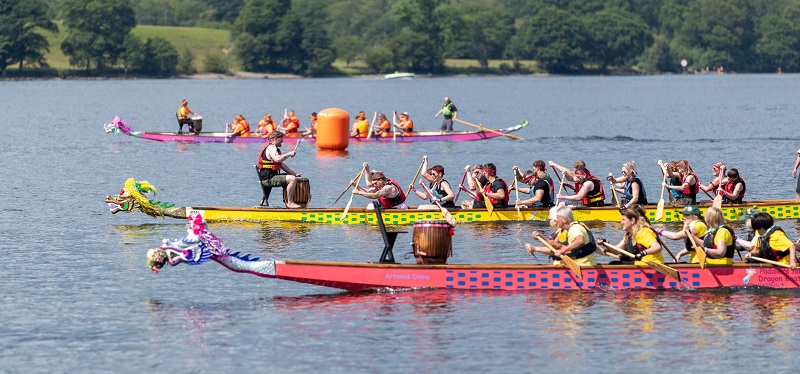 With almost perfect conditions, Low Wood Bay Resort and Spa provided the venue, and the action-packed day saw 15 teams compete head to head in a series of heats followed by the fiercely fought final race. Other activities included the team Hakka which was performed in front of a crowd of over 350 and a tug of war competition. Trophies were awarded for the best fancy dress, most money raised, fastest time of the day, best team spirit, team of the day and race champions.
Tim Green, Director, says; "We're delighted with the response this year and the support, effort and commitment that teams have shown. We appreciate how many charity event opportunities there are, so we're grateful for those that have chosen to take part in Dragon Bay. It's important to us that we continue to raise awareness and funds for Paddlers for Life Windermere as well as allow other charities to benefit. We've loved organizing the event as much as everyone has enjoyed taking part."
Although the final figure is yet to be confirmed, more than £14,000 has been raised for various local and national charities or good causes. CBA Events presented Paddlers for Life Windermere with a cheque for £1,200 in the prize giving finale at the end of the event.
Below is a list of the teams that took place and their chosen charities.
| | |
| --- | --- |
| Team | Charity |
| Amys Care | Amys Care |
| Rainbow House | Rainbow House |
| Kendal Nutricare Ltd | The Calvert Trust |
| House of Daniel Thwaites | Ambleside Mountain Rescue |
| Grisdales | Macmillian Cancer Support |
| Cranstons | Hospice at Home Carlisle & North Lakeland |
| H&H Group | Mind & Cumbria Community Foundation |
| Paddlers for Life Windermere | Paddlers for Life Windermere |
| Paddlers for Life Manchester | Paddlers for Life Manchester |
| RSM Consulting | FOCC & CRCL |
| Lake District Hotels Ltd | Keswick School |
| North Lakes Gymnastics Academy | North Lakes Gymnastics Academy |
| University Hospitals of Morecambe Bay NHS | Bay Hospitals Charity Maternity Appeal |
| Thomas Hayton Winkley | Kendal Mountain Rescue |
| Spirit of Yorkshire Dragon Boat Team | Motor Neurone Disease Association |
CBA Events is a full-service event management company, working UK wide and overseas, established in 2001.
For more information, please visit www.dragonbay.co.uk and www.cbaevents.co.uk