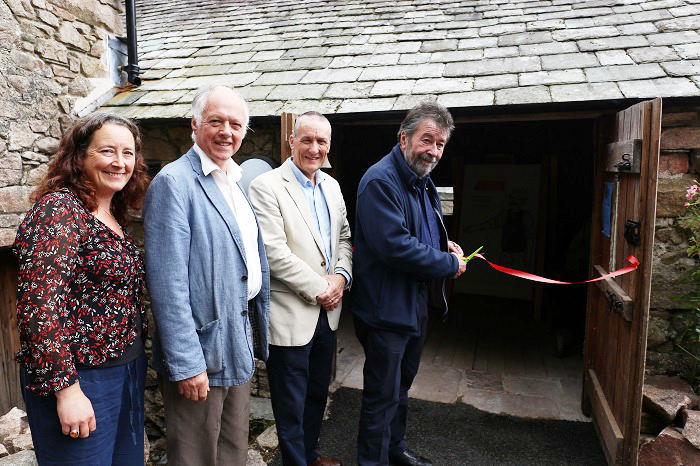 Today [10 July] Eskdale Mill & Heritage Trust celebrates reopening the Mill to the public with an official ribbon cutting event with invited guests, including guest of honour. Eric Robson.
The event started with tea and scones at the Boot Inn before everyone moved up to Eskdale Mill itself. President of Cumbria Tourism Eric Robson and eminent broadcast journalist cut the ribbon to officially re-open the Mill. He is well-known for his love of the area and he is a Patron of Eskdale Mill & Heritage Trust. Other guests in attendance included John Williams, the local committee member of the National Lottery Heritage Fund, Paul Pharaoh Chair of Trustees Eskdale Mill & Heritage Trust, representatives from Ravenglass & Eskdale Railway, local businesses and Cumbria Tourism.
Located in the small village of Boot within the Lake District National Park UNESCO.
World Heritage Site, the Grade 11* listed building is the last working water-powered corn mill in the region. This historic building and its working machinery are rare survivors of a bygone age and the changing communities in the valley. The first visitors to Eskdale Mill were treated to splendid weather last week when the doors were opened on Wednesday 26 June.
For anyone interested in getting involved in the project there are a range of volunteering opportunities available from visitor experience to mechanical to nature and gardening. Find out more here.
Kate Hughes, Mill Manager says: "We were delighted to have our Patron Eric Robson officially open the Mill we are looking forward to welcoming visitors across the coming months. There are lots of things to do in the Eskdale Valley and it's a short distance to explore the stunning scenery of the Cumbrian coast too, so we'd encourage visitors to venture West this summer."
Eric Robson, President of Cumbria Tourism says; "I am absolutely thrilled that this significant cultural heritage site for Cumbria has been restored and is open to the public again. It has an important role to play in sharing the history of the area with visitors of all ages, adding another reason for people to visit the stunning Western Lake District."