Pupils from six winning primary schools have been selected from this year's competition entries and will be presented with prizes at Workington Fire Station tomorrow by Cllr Keith Little, Cabinet Member for Highways and Transport.
'Feet First' is a walking, cycling and scooting initiative, run by Cumbria County Council's Active Travel team.  This year, more than 8,000 pupils from over 50 Cumbrian schools took part.
Each year, the council's Active Travel team runs a competition as part of the Feet First project, and this year two competitions were offered – one for junior school age pupils, and a second for infant school age pupils.
The aim of the junior competition was to design a reward badge for this year's puzzle book theme, 'Our Planet.'  Children could draw anything about the earth – e.g. the view from space, maps, countryside, a mountain range, forests, cities, with children encouraged to be imaginative.
Over 70 drawings were entered, and the winners are:
Leanah Wilson, age 10 from Beckstone Primary School, Workington
Mia Raffel, age 9 from North Lakes Junior School, Penrith
Amogh Kashyap, age 8 from Stanwix Primary School, Carlisle
The aim of the infant competition was to draw a picture about walking, cycling or scooting to school with an adult or other children.  The winning drawings will be printed in next year's Feet First puzzle books.  Children could draw anything to do with walking, cycling and scooting to school, e.g. with friends, parents, grandparents, or the family dog.
Over 60 drawings were entered, and the winners are:
Logan Simpson, age 6, Brough Community Primary School, Kirkby Stephen
Ella Wilson, age 6, Heron Hill Primary School, Kendal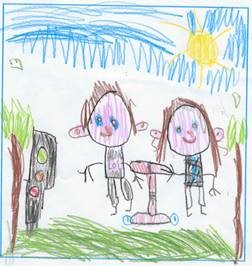 Isobelle Lightfoot, age 5, Grasslot Infant School, Maryport
Active Travel officers Nancy Sloan and Judith Aris made a shortlist of the entries for Cllr Keith Little, who judged the competition on Monday 24 June.
Nancy Sloan said: "Looking through all the competition entries was an absolute joy.  The standard of badge designs was extremely high, they were colourful and imaginative.  Many badge designs highlighted the very topical problem of pollution and saving the earth.
"The standard of the drawing entries was amazing, particularly given the age of the children.  They were neat, tidy and colourful and had images of very happy children."
Cllr Keith Little said: "I am looking forward to presenting the winners with their prizes, I thought the entries were excellent, displaying a wide range of ideas, and my congratulations to all the young people who took part in the competition. Feet First is an excellent initiative and helps promote the benefits of walking, scooting or cycling to school, as well as being lots of fun and creatively stimulating for the children. I'd recommend all primary schools sign up to it for 2019-20!"