CARLISLE Mencap will be hosting special workshops to help parents and carers with children who have challenging behaviours.
The Challenging Behaviour Workshops will run next month and in October and are free. They will take place at Carlisle Mencap's Grace Little Centre in north Carlisle and delivered by the Challenging Behaviour Foundation.
They are aimed at parents, grandparents or siblings of children of all ages who have moderate to severe learning disabilities, and the staff who work with them.
Sheila Gregory, chief executive officer of Carlisle Mencap, said: "We are very happy to be involved with this very important and worthwhile initiative. The purpose is to understand challenging behaviour and help parents and families to prevent and respond to a child or adult's behaviour and therefore improve family life and gain confidence in supporting their offspring."
The Challenging Behaviour Foundation, based in Chatham, Kent, was founded in 1997 by Vivien Cooper OBE, the parent of a child, Daniel, with severe learning difficulties. The foundation aims to improve understanding of challenging behaviours and support families who have a child or young adult with severe learning disabilities.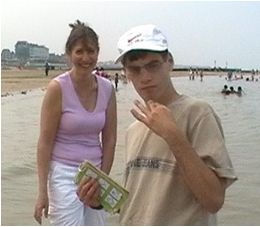 Vivien Cooper, who gained an MA in Management of Community Care from the University of Kent in 2005, said: "I started the foundation to try and ensure that the information available about understanding and supporting individuals who display challenging behaviour gets to those who need it. And I am determined that families can be supported locally with the right support in the right place at the right time."
Workshops like these have been held in other parts of the country and in June some were held at the Queen Katherine School in Kendal. Next month's will be the first to be held in north Cumbria.
The workshops at the Grace Little Centre take place on Thursday, September 12 (aimed at families with a child/adult who has challenging behaviour); Friday, September 13 (aimed at staff carers); and then a joint one on Tuesday, October 29. The workshops are delivered by specially-trained tutors and a family carer co-trainer. The workshops cover people with challenging behaviours of all ages.
For more details and/or to book a place on the free workshops, call 01634 838739 or email [email protected]