Leading winter livestock event Borderway Agri Expo announces impressive line-up of specialist judges for the 2019 Pedigree Calf Shows
Organisers of Borderway Agri Expo, Harrison & Hetherington, has today announced the details of its highly-anticipated pedigree judge line-up for 2019.   Borderway Agri-Expo is one of the key dates in the livestock sector's diary and this announcement marks an integral element of this winter showcase event being held at Carlisle's Borderway Auction Mart on 1st November 2019.
Alongside the main commercial cattle and sheep classes, there are 5 pedigree calf shows headed up by their associated societies/clubs – Aberdeen Angus, Beef Shorthorns, Simmental, British Blues and Hereford.  Each year, this element of Agri Expo sees a combined number of entries in the Pedigree shows in the region of 350 head of stock.
The Aberdeen Angus will be judged by Mr John McEnroe owner of the well-known Liss Herd, Beef Shorthorn will be judged by Mr Vic Watson, from Balliefurth Farm, judging the Simmentals will be Skerrington's Mr William Young, Herefords will be under the watchful eye of Mr James Graham from Portadown and concluding this impressive line up the British Blues will be judged by the Drift Herd's Mr Andrew Phillips.
Each of the calf shows requires a specialist eye and on announcing the details of this impressive line-up, David Pritchard, organiser of the event and Joint Managing Director of Harrison & Hetherington said: "The Pedigree calf shows are an integral part of Agri Expo and I know that the event itself is important to all of the societies/clubs who are represented as it gives a first-hand insight into the breed's future breeding stock.
"All of the pedigree judges are noted pedigree cattle breeders themselves, who together bring with them a wealth of knowledge and understanding of the breeds they represent along with the traits required of their specific breed for today's marketplace. We are privileged that these judges along with our main commercial judges are willing to share their expertise to support us."
Judging the Aberdeen Angus will be Mr John McEnroe of Oldcastle Co. Meath, owner of Ireland's oldest and best-known herd, the Liss herd.  Since its foundation in 1953, the Liss herd has never wavered in its loyalty to traditional Aberdeen-Angus breeding values. The 90-cow herd is rooted in the guiding principle of producing honest hard-working cattle of average size and width, coupled with easy fleshing, natural characteristics.
The Beef Shorthorn will be judged by Mr Vic Watson, Farm Manager at Balliefurth Farm, Grantown-on-Spey. His herd consists of 80 Shorthorn cows in a grading up programme with progeny either sold for breeding or fattened up for the Balliefurth butcher shop.
On accepting his invitation to judge Mr Watson said: "The calf show at Borderway Agri Expo is now a well-established event and it is often the first chance to see the future of the breed coming forward. I would like to thank the society for selecting me to judge this year and to thank all the exhibitors for everything they do to present the calves in such a way that are not only a credit to them but also to the breed."
In the early 1970's some of the first Simmental Cattle imported into the UK, were by John Young of Skerrington Mains, near Kilmarnock in East Ayrshire.  It is his son, William Young, who has been invited to judge the breed this year.
Since importing the original Simmental cow Ersé in 1970 from Hans Hackel's famous herd in Germany, followed by Renaté in 1973 from the same herd, Skerrington's well–known Rebecca line is directly descended from Renaté.  Mr Young will be using his expertise of this breed to judge and said:
"Skerrington Livestock have always striven to produce quality stock to suit all types of livestock farming from bulls to breeding females.  As such, it is my pleasure to be invited to judge and I will be looking for cattle most suitable to the commercial business of today."
The British Blues will be judged by noted British Blues Breeder, the Drift Herd's Mr Michael Phillips from The Shooting Lodge, Reading Berkshire.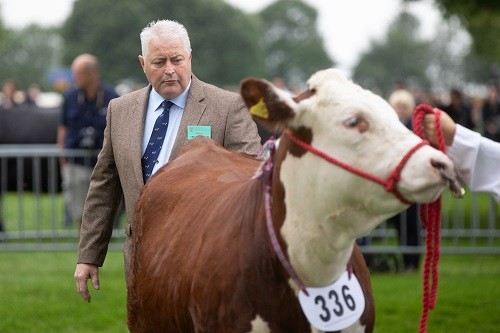 Travelling across the water from Portadown, Co Armagh, and judging the Hereford Cattle Society Calf Show is James Graham who established just 11 years ago, what is today one of Northern Ireland's top Hereford show herds, the Richmount Herd.
Following a successful summer having bred and shown the reserve supreme champion at the Northern Ireland National Hereford Show and the reserve supreme champion at Balmoral Mr Graham said: "I am delighted to have been asked to judge the National Calf Show at Borderway Agri Expo which already stages such a high-quality display of Herefords every year in the form of the Scottish Hereford Breeders Association's autumn calf show. I am expecting to see the cream of the crop of September 2018 to March 2019 born calves."
In addition to the main commercial cattle and sheep shows, and the pedigree shows each year, in the region of 140 trade stands exhibit at Borderway Agri Expo.  These businesses who attend provide a showcase for visitors to learn more about the latest advancements across the livestock sector, in terms of genetics, machinery and equipment along with supporting managements systems.
Entries are now being taken for all classes at the 2019 Borderway Agri Expo, which takes place on 1st November 2019.  Full details and entry forms can be found at www.harrisonandhetherington.co.uk or telephone 01228 406230.