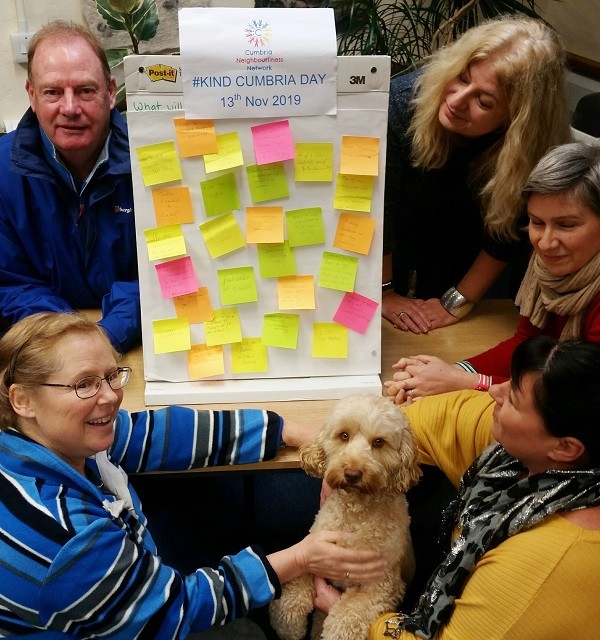 Organisations, charities, businesses and schools are set to 'virtually' come together across the county to celebrate the very first Kind Cumbria Day on the 13th November 2019.
The Cumbria Neighbourliness Network, who are behind the campaign, was formed in 2018 by a range of third sector organisations, led by ACTion with Communities in Cumbria (ACT). They have been developing ideas about what it means to be neighbourly and how they might promote neighbourliness, in our region, as a small movement towards addressing social isolation and loneliness.
Lorraine Smyth, Chief Executive of ACT said: "There are many people already doing neighbourly things and organisations have neighbourliness as one of their aims or running a service that would tick the box for neighbourliness already – we just want to highlight all the good things already happening in Cumbria and encourage others to get involved and think about being more Neighbourly and kind to others."
As a result the group created the social media campaign 'Kind Cumbria' across Twitter, Facebook and Instagram and have been promoting kindness and neighbourliness each month with a different theme relating to neighbourliness, from mental health and young people to crime prevention and sharing a cup of tea with a neighbour and encouraging people to get involved and share stories. The campaign has had engagement from all sorts of individuals and organisations across Cumbria from Grange-Over-Sands to Ambleside, Carlisle to Maryport who want to know more, who are sharing their ideas, events and generally feeling very positive about the messages being posted…it seems that Cumbria is indeed a very kind place to live.
Lorrainne said: "On the 13th November it is World Kindness Day, so we are encouraging people to think about random acts of kindness and celebrating this with Cumbria's very own 'Kind Cumbria Day'. Anyone can get involved in the campaign on social media using the hashtag #KindCumbria and #KindCumbriaDay. We would love for anyone to join the campaign by sharing any events, initiatives or activities with us, any photos, case studies or stories of all things kind and neighbourly."
GET INVOLVED
The network have been encouraging other organisations, schools, businesses, charities, community groups and the general public to think about what random act of kindness they could do – perhaps visiting a care home and taking cake, doing a litter pick in a communal space, volunteering some time, or something as simple as making a cup of tea.
The team have also been creating 'Kindness Walls' in their offices and encouraging visitors and colleagues to write down examples of ways in which they've been kind, or how people have been kind to them on a post it note and adding it to the wall.
PHOTOGRAPHY COMPETITION
The public have also been getting involved with #KindCumbria Day and coming up with their own random acts of kindness. People are invited to take a photo and share it online. All photos shared online using #KindCumbria or #KindCumbriaDay on the 13th November will be entered into a photography competition where they could win a weekend break at Chimney Gill Cottage in Cumbria, a delicious foodie hamper from Cranstons, or a voucher for Afternoon Tea at The Halston in Carlisle.
Judging will take place after the 13th November and winners notified. Anyone wanting to enter or share their stories about kindness can do so via email to [email protected]
Organisations part of the Cumbria Neighbourliness Network include ACT, CVS, The Oaklea Trust, Age UK, EDEN project ( Cornwall), Vincent St Pauls Society, Rotary Club, Big Lunch Carlisle , Carlisle City Council, Active Cumbria, Police and Crime Commissioners Office, Eden Housing Association, Glenmore Charitable Trust and Cumbria County Council – Eden area.
You can follow Kind Cumbria on
Twitter: @kind_cumbria
Facebook: www.facebook.com/kindcumbria
Instagram: @kind_cumbria