An investigation has been launched following the discovery of clinical waste dumped on a roadside near Kendal.
A member of the public reported seeing a number of black bin bags that had been fly-tipped in a lay-by on the A6 Shap Road, north of Kendal near Selside.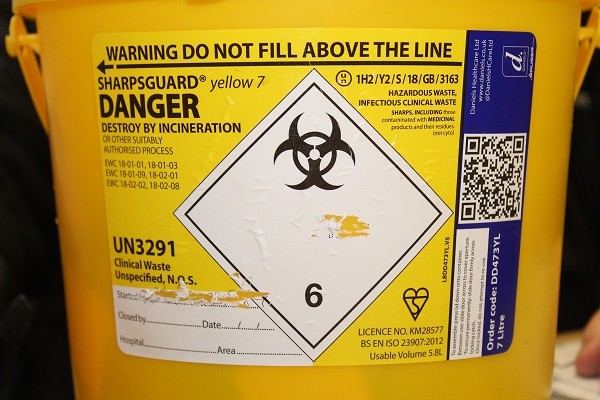 Officers from South Lakeland District Council (SLDC) attended and discovered the bags contained eight large tubs used for the disposal of clinical waste, typically syringes contaminated with medicinal products, pharmaceuticals and surgical waste.
All the tubs were full and contained hundreds of used syringes. All 'sharps' and related waste is classed as 'hazardous waste' in official government guidance.
The bags were reported to SLDC on Monday (11 November) and officers believe they could have been dumped in the lay-by some time over the weekend.
The council is now appealing for any information that could help them identify who is responsible for the fly-tipping.
Enforcement officer John Barwise said: "I have worked for the council for 40 years and I can't recollect ever finding this amount of clinical waste being dumped.
"We can sometimes find a few needles, but nothing on this scale.
"It is highly unusual – it appears it may have come from some sort of healthcare premises and ordinarily they are very responsible with the disposal of their clinical waste because they recognise the dangers.
"The labels on the tubs appear to have been scratched off to remove identifying marks, which suggests whoever dumped these containers has done this quite deliberately.
"To dump this sort of waste in a public place is highly irresponsible, illegal and potentially dangerous. We would ask that anyone who may have seen anything suspicious around the lay-by over the weekend or has any information about where these containers have come from to please contact us.''
Clinical waste from commercial premises is normally collected and disposed off, usually by incineration, by a registered clinical waste carrier.
The maximum penalty for fly-tipping that can be imposed by the courts is a £50,000 fine and up to five years in prison for the most serious offences.
Anyone with information about the incident is asked to contact SLDC's enforcement team on 01539 733333.