Jones Homes has funded a new beehive to support Heron Hill Primary School in Kendal's latest ecological project.
The company's £300 donation has enabled the school to purchase the equipment to enhance its already impressive apiary.
The school has assembled its own 'Bee Team' to lead the project, which has been in progress for over three years. The aim is to enhance learning opportunities for the children while increasing their understanding of the ecological system around them.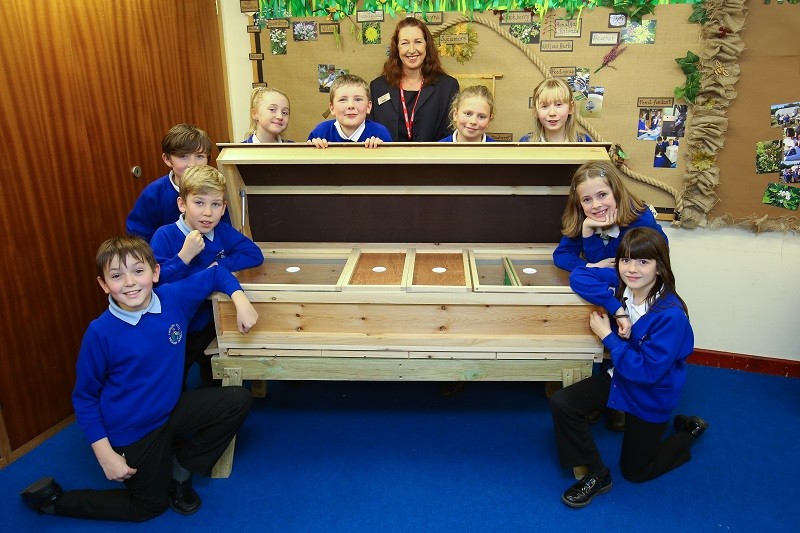 Jacqui Cottam, who is chair of governors at Heron Hill Primary School, is a registered beekeeper who helps to run the Bee Club for pupils in Year 4 to Year 6. She said: "The children are very excited about the hive and can't wait to see our bees buzzing around their new home.
"It really will have far-reaching positive benefits, not just for our children, but so many of the Kendal community who come to visit the apiary."
The long hive requires far less heavy lifting than the hives currently being used by the Heron Hill Bee Team, meaning that disabled children or children with limited mobility can now take part in activities there.
The hive has been built by Green Earth Hives, who specialise in educational and accessible beehives.
Jones Homes is building 110 homes at Stonecross Meadows, off Milnthorpe Road in Kendal.
Sales Director, Carol Barlow, said: "It is clear that our donation of £300 to Heron Hill school to buy a new long hive has had a tremendous impact on the children and we couldn't be happier.
"Aside from benefiting the children at Heron Hill, the hive will also be made available to pupils visiting the apiary from other schools nearby.
"Heron Hill Primary School's initiative is a worthy project, both in terms of educational and environmental impact. We are glad to be supporting the school in its endeavours and hope to visit the apiary again soon to see how their work is progressing."
Jones Homes is investing more than £300,000 in Kendal, with £279,300 allocated for schools and £32,500 to improve the development's junction with Milnthorpe Road.
For more information on homes at Stonecross Meadows see jones-homes.co.uk.