When it comes to customer loyalty there can be few to match the example of Cumbrian farmer George Edgar.
The dairy and beef farmer has just taken delivery of his new Massey Ferguson tractor – the 25th bought by his family since his father John's first purchase half a century ago in 1970.
George has a long-standing relationship with leading agricultural supplier Carrs Billington and was delighted to pick up the keys for his MF 6716S Dyna-6 from familiar faces at its Carlisle Rosehill depot. It was no surprise to staff that he was the first to buy a 2020-plate from them.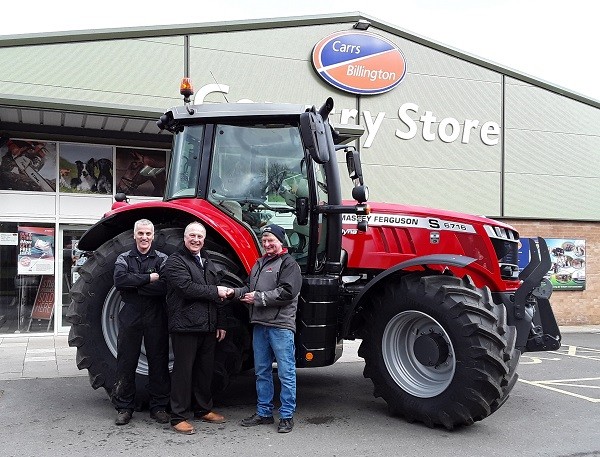 The first Massey Ferguson sold to George's father was a model 135, which boasted 47hp and cost £970 minus 10% government funding. George was just 12 at the time.
George farms 250 dairy cows and beef cattle with his brother Willie on the 480-acre family farm at Great Orton, near Carlisle.
He said: "We have stayed loyal to Massey Ferguson all this time because there was no reason to look elsewhere. The machines have always been great and the backup and service received from Carrs takes some beating.
"It's about building up a relationship with your salesman. The aftercare is very important when making choices."
Since the 135 there has been a 165, 550, 575, 290, 698T, 698T, 290, 3085, 390T, 6180, 3085, 8130, 6270, 7490, 5455, 5480, 5470, 5480, 7618, 6616, 7718, 5713, 6716 and now the 6716S.
The first Massey Ferguson was purchased from Reay's of Abbeytown, a sub dealer for County Motors. The following eight tractors were bought from Country Motors. County Motors was taken over by Carrs Agriculture in 1994 where George made his next purchases, starting with his 390T, which is still used every day on the farm for scraping duties.
Carrs Billington celebrated its own anniversary with Massey Ferguson last year, marking 25 years as a trusted dealership.
Machinery Director Ian Gate said: "It's wonderful to have this connection going back all those years.
"We're delighted that George and his family continue to put their faith in both Massey Ferguson and Carrs Billington and we hope to continue that relationship for many years to come."
The full range of Massey Ferguson products including tractors, mowers, balers, combine harvesters, tedders, rakes and telehandlers is available to view at any of the Carrs Billington machinery depots in Annan, Barnard Castle, Carlisle, Hexham, Morpeth and Penrith.