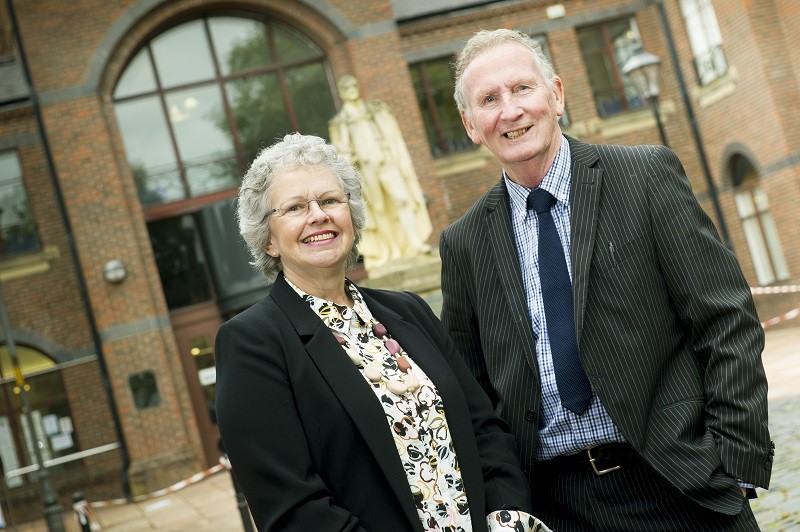 Two of Carlisle's best-known law firms are to merge.
Malcolm Dodds Solicitors merges with Wragg Mark-Bell from October, with its clients transferring to the Castle Street based law firm. Malcolm becomes a consultant in the new arrangement.
"I'm delighted that Malcolm has joined us as a consultant," said Nick Kennon, senior director at Wragg Mark-Bell.
"He is a former colleague and friend of our founder, the late Willie Mark-Bell and so it is fitting that he has joined Willie's old firm and will help us build on that legacy.
"Malcolm is one of the area's most experienced lawyers and his contribution will be invaluable. We're looking forward to working together."
Malcolm Dodds founded his business in the 1970s and went on to become one of the area's leading criminal defence lawyers.
He built a reputation for handling serious cases including acting in complex drug conspiracies, fraud cases and murder trials. Malcolm was one of the first solicitors in the country to be granted Higher Rights of Audience to appear in the crown court.
He built the business working alongside his wife Lindy Edgar, a legal executive and Police Station Representative.
Although he is not retiring, he says the merger will free up some of his time. "I will miss the challenge of criminal cases and helping people through difficult periods of their lives," he says.
Malcolm was born in Carlisle and attended Carlisle Grammar School. He began his career at Atkinson North undertaking five-year articles with his principal Douglas Atkinson, and studied Law at Guildford College of Law.
He qualified aged 21 and worked in Newcastle for what was to become the Crown Prosecution Solicitors Department before returning to Carlisle to launch his own law firm in Lowther Street, initially doing general legal work before he decided to specialise in criminal defence.
His firm amalgamated with Bendle Sibson and Davidson and he joined his friend Willie Mark-Bell who was also an old grammar school boy, to become Bendle Dodds where he again specialised in criminal defence work. He then moved his practice to Earl Street in Carlisle next to the crown court building in the early 1990s.
"Criminal defence work can be very disruptive," says Malcolm. "You have got to be available 24 hours a day, so I decided to focus full attention on this area of law."
A change of law in 1990 allowed solicitors who took extra qualifications to appear in the crown court and Malcolm become one of the first criminal lawyers in the country to achieve Higher Rights of Audience and appeared in courts up and down the country representing clients in serious criminal cases.
"I enjoyed this time of my career exercising these new qualifications, dealing with high profile criminal cases," said Malcolm. "The high point was acting as junior counsel to Henry Globe QC in a murder trial in Carlisle Crown Court."
Malcolm also appeared in the Court of Appeal in London on a Carlisle drugs case, achieving a reduced sentence for his client.
His wife Lindy was born in Carlisle and was the daughter of Bill Logan who ran a successful chain of garages in the city. She went to school in Carlisle and worked for Malcolm as a Police Station Representative for a number of years. Her work with the firm took her into crown court many times.
She says: "Malcolm has always been at the forefront of the digital changes we have seen, and we were probably one of the first in Carlisle to have computers rather than typewriters.
"The whole system has changed and we now receive evidence electronically. There have been many changes with technology with Malcolm Dodds Solicitors embracing these changes"
There were many memorable cases, but Malcolm says: "The case that stays in my mind was the murder in St. John's Churchyard in Upperby. That was one of the most difficult cases we have had to deal with in our careers."
The 14-year-old schoolboy was murdered in Carlisle in 2015. Malcolm acted for one of the co-accused.
"That was most upsetting," says Malcolm. But he says the defence lawyer's job is to focus on evidence. "You have to step back from the emotion and look at the evidence. My job is to look after the interests of the client to the best of my ability."
As Lindy points out: "You have to set emotions aside and present cases on facts and evidence."
Looking back Malcolm says: "It has been an interesting journey. It's an interesting job and I have thoroughly enjoyed all of it. I've been pleased to help out clients in what is a very difficult situation for everyone."
Lindy says: "And it's not just the clients, it's the mothers, and the families who are affected. At times there have been young offenders and you know they are going to prison, and I would say to the mum, if you want to give them a cuddle in this quiet interview room do that because you aren't going to get another opportunity once they enter the courtroom."
Malcolm says he partly decided on the merger with Wragg Mark-Bell because of his long-standing friendship with the late Willie Mark-Bell who co-founded the firm. "Like me he was a criminal advocate, so we saw each other almost daily during our working lives."
Malcolm and Lindy say the recent Covid-19 pandemic gave them a chance to reassess, and although Malcolm will continue as a consultant with Wragg Mark-Bell the merger will allow him to "ease the workload."
"Coronavirus has given me the opportunity to be at home a lot more. I would never have found the time to think about my future," he says.
Outside work Malcolm is an accomplished golfer, a club and county champion and played off scratch for many years. He is also a keen fell walker.
He and Lindy hope to spend more time with their family – children Nikki, Marcus, Robbie and Sally and grandchildren Logan, 12, Macy, 10 and Noah, 9 and Jacob three.