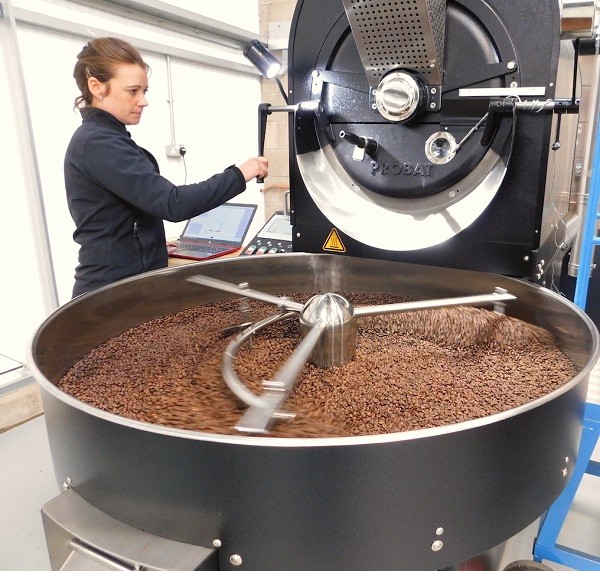 A speciality Cumbrian coffee roaster has committed to upping its recycling efforts in response to renewed challenges brought about by the coronavirus pandemic.
With in excess of 2.5 billion coffee cups being thrown away each year in the UK and the pandemic generating a further increase in takeaway cups, Threlkeld-based Carvetii Coffee Roasters' has introduced new recycling initiatives for both its wholesale and retail customers.
Wholesale customers including coffee shops and restaurants will be provided with a free recycling box when they purchase Carvetii's takeaway cups to use on site. Added to that, retail customers who order coffee deliveries to their doors can now return their empty coffee bags to the roasters in the Lake District for each component part to be recycled.
Carvetii already recycle everything from coffee sacks, to the chaff that comes off the coffee beans in the roaster, to the nitrile gloves used to pack the coffee. But these two new initiatives, launched to coincide with UK Coffee Week (19th-25th October), further cement their strong sustainability values in an industry where waste is a particular concern.
Carvetii's Vegware takeaway cups are already environmentally friendly as they are made from renewable, low carbon and recycled materials, which are designed to be compostable in a specific way with food waste.
Unfortunately, there are currently no composting facilities of this kind in Cumbria so the roasters took the decision to purchase their own recycling boxes and will provide them free of charge to wholesale customers buying takeaway cups. The cups can then be sent in the boxes to a specialist food waste facility where they will be munched down into gas, electricity, and nutrient-rich fertiliser.
Owner and co-founder, Angharad MacDonald, said: "Many people have reverted back to using takeaway coffee cups during the COVID pandemic and this has been backed up by a jump in demand for them from our customers. We've all seen the waste from many high street chains either dumped at the side of our roads and ending up in our rivers or in landfill and we knew we needed to look at ways to prevent this happening with our cups at the very least.
"At the same time, we've also seen record growth in our online orders and monthly coffee subscriptions, so we felt strongly that we needed to offer our retail customers the opportunity to recycle their empty coffee bags. The new coffee bag recycling box at the roastery means people can drop their bags off or save them up and return them – for the price of a second class stamp – through the post for us to recycle on their behalf.
"Ultimately, it's all about making it as easy as possible for our customers to take the responsible path while we'll continue our efforts to be more sustainable as a company."
Carvetii have also started selling coffee containers that can be refilled for customers visiting the Roastery. Containers will hold 350 grams of coffee beans compared to a regular coffee bag of 250 grams so customers will receive 100 grams more coffee for the same price whilst also cutting down their plastic consumption.
For more information on Carvetii Coffee, visit https://www.carvetiicoffee.co.uk/
UK Coffee Week runs from 19-25th October and raises funds for Project Waterfall. For more information, visit https://www.ukcoffeeweek.com