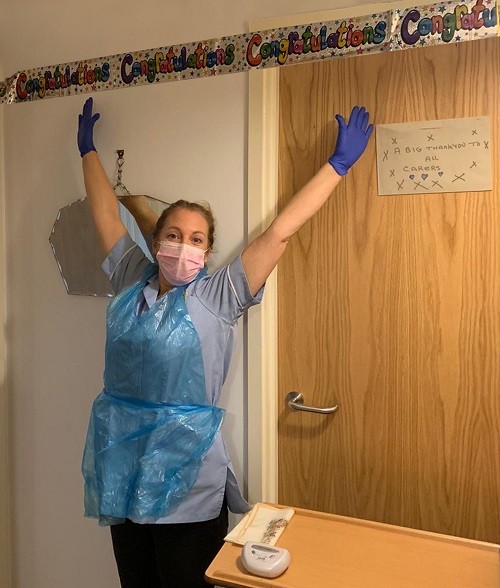 Eden Country Care Limited, a leading, local home care company, has announced its best ever survey results on client satisfaction rates covering 10 key areas of home care. The survey was posted to nearly 300 clients who all receive home care support to remain living within the comfort and familiar surroundings of their own homes, within their own local area.
In response to the results, the company's directors rewarded more than 130 of their frontline Home Carers with a thank you to the value of £13,000 in total after the company received the best ever client survey results in its 17-year history. To achieve mostly 100% feedback during this year of all years is incredible" said care manager Heather Tarney.
The survey comprised of 10 key questions focussing on the overall satisfaction rates regarding the care and support that the company's clients received and how it made them feel. 6 out of 10 questions received 100% overall satisfaction with the lowest score being an impressive 95% satisfaction rate and the rest were 98% overall satisfaction or above.
Eden Country Care's Kirkby Stephen team home carer, Rachel Blackburn was surprised to find Mr and Mrs Metcalfe had decorated their Mill Gardens apartment's hallway to congratulate Rachel and her fellow Eden Country Care team mates on their fantastic survey results. Mrs Metcalfe explained that when she and her husband heard the news about the best ever client survey results, we wanted to say, "Well Done Carers! thanks for all the care and dedication you give us all, it's very much appreciated and you're all Angels in Disguise."
Since February 2020 huge changes have occurred for carers and clients alike, and Eden Country Care were realistically considering this year's client satisfaction survey results could be negatively impacted by the emotional strain clients and carers were feeling and the extra pressures on home carers. Heather explained that, "our clients have been limiting visitors to their homes as part of the national lockdown, but throughout, our home carers have supported them, whether they had symptoms of the virus or not." Heather went on, "I was delighted with the results and I am so proud of all our carers, especially this year, working so brilliantly throughout all the health and social care challenges we've faced. We felt that to demonstrate our admiration for our home care heroes, a £100 bonus for each team member was the least we could do to say "thank you, you're all stars."
Heather went on to describe how, "working masked and wearing full PPE throughout shifts that can extend upwards to 12 and 14 hours whilst sticking to even tighter protocols, and all the time caring and supporting very vulnerable people with sensitivity and humour and managing to put smiles on people's faces, is no mean feat."
Heather continued, "these are unprecedented times for everyone and although we thank our teams a lot, we wanted to say thank you in a more tangible way to our dedicated teams who are putting themselves in harm's way to help and care for the most vulnerable in our communities."
Eden Country Care's recruitment manager, Sandy Armstrong, pointed out that the country's social care workforce of 1.6 million is larger than the 1.4 million NHS workforce (The Kings Fund). She described how, "by helping people to live independently in their own communities, home care plays an essential role in supporting the more vulnerable in our communities and reduces the strain on the NHS." She explained that, "Eden Country Care believe all workers in the social care sector deserve more recognition for increasingly taking on more challenging tasks, having to look after more frail, much older people, supporting individuals to eat and swallow, bathing someone with dignity and without hurting them, communicating with someone with early onset dementia; doing all these things with intelligent kindness, dignity, care and respect – alone in the home of a client whilst offering them reassurance and stability."
Registered Care Manager Heather Tarney reaffirmed this by saying: "frontline home carers do amazing work, under continual pressure, and we are doing all we can to support them." She confirmed that, "although individually it is never going to be enough, we hope £100, as an expression of our appreciation, helps our frontline home care team mates feel just how much we all value their amazing commitment."