A Lake District designer and creator of high-quality, bespoke leather handbags and accessories has realised her dream by setting up her own business.
Aimee Duclos, 29, of Coniston, owner and founder of Duclos, is looking to the future after launching her new venture. The company's new interactive website has just gone live and she is busy meeting orders from her workshop in the heart of the Lakes.
"I am really excited about the potential of something new starting," said Aimee. "In a fairly short time I have gone from having a vision in my head about what I'd like to achieve to learning from experts how to start a business to the point of now being up and running with an online store."
Aimee attended Cartmel Priory School before taking a two-year BTEC National Diploma in Art and Design at Lancaster and Morecambe College and then a four-year Cordwainers Product Design and Development degree at the London College of Fashion, specialising in leather handbags and accessories.
Her skills were honed in Australia while working for a company on the Gold Coast, which made traditional Australian cowboy hats, and for a company in New Zealand, which made small leather goods, such as handbags, holdalls and wallets.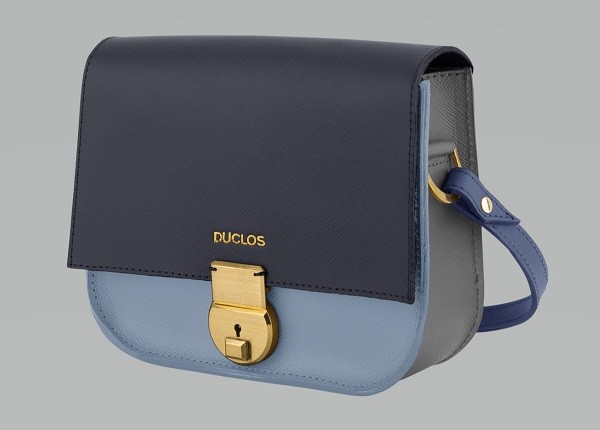 She returned to Cumbria in 2018. "I decided the time had come to do what I had wanted to do for some time – to create and work on my own designs," said Aimee. She created a workshop at home and started making leather purses, pouches and handbags for friends, often incorporating an individual's wishes about a type of strap or a specific colour they had not been able to find in high street shops.
"I realised that stepping into my workshop was what made me most happy and that I could turn this into a business," said Aimee.
She spent most of 2019 creating prototypes and testing different leathers to see which would work best with her designs. She also attended a course run through Cumbria Chamber of Commerce about how to start up a business and gained invaluable help from her mentor, Adrian Luckham, as well as a grant to help with initial costs.
Duclos was launched earlier this year, selling bespoke handbags and small leather accessories, such as purses, pouches, straps and cardholders.
"I make handbags and accessories that embody the modern individual, encouraging empowerment and individuality," said Aimee.
"My goods particularly appeal to working professionals aged between 25-45 with disposable income, and also, in Cumbria, to Lakes country folk, who have a lot of appreciation for leather.
"I ensure that all my raw materials are the best I can lay my hands on. I use a special leather called saffiano from Tuscany, the brass fittings are made exclusively in Italy for Duclos and the goods are lined with high-grade suede.
"Everything is made to order. Customers can go to my website and choose different components, colours and the type of strap they want. There are different fittings and clasp options and the opportunity to include a monogram using the customer's initials. I like to maintain a conversation via email or social media with customers about their orders, including updating them with photographs, as their goods are created – most companies cannot offer that level of personal service."
Aimee explained she chose Kendal firm SYPO to create her new website. SYPO is a team of web and technical specialists, which helps people design, create, manage and promote their online business. It also develops and integrates software and systems to help its clients improve their processes and operations.
"Web developer Mark Syred at SYPO was brilliant," said Aimee. "He offered expert advice and had lots of ideas about how the website could work. Mark designed the configurator on the website that lets customers chose different components for their bespoke goods."
Duclos has had orders from across the United Kingdom, as well as from Australia, New Zealand and Kuala Lumpur. Aimee's dream is to eventually have a physical shop and factory, perhaps in Manchester, where customers could visit, look at catalogues and view the progress of their bespoke orders.
Mark Syred, of SYPO, said: "We were delighted to work with Aimee. We are always keen to help local businesses and go the extra mile to ensure their websites and systems operate in such a way as to help them achieve their dreams."