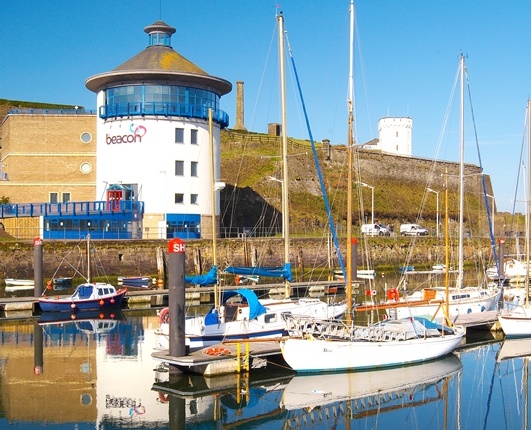 A £350,000 project to bring history to life has been unveiled at Whitehaven's Beacon Museum.
A series of new interactive displays have been installed heralding a new era of digital storytelling.
The Beacon Sparks project funded by the Rural Payments Agency and Sellafield Ltd,  aims to revitalise the visualisation of local history with subjects including history, art and science transformed for visitors to learn and enjoy.
The interactive displays include:
Whitehaven's celebrated geological landscape being brought to life by the Reverend Ceasar Caine, a local vicar and keen amateur archaeologist and geologist during the late 19th century. Audiences can explore Caine's hut in discovering the wonders that lie below the earth's surface around Copeland.
Visitors being able to steer their own ship into an ever-evolving Whitehaven harbour, with the changes to the landscape depicted within a unique interactive game.
Budding merchants trying their hand at trading around the world using some of the routes and ships that made Whitehaven a world renowned trading port.
An audio-visual tour around Whitehaven brings to life some of the landmarks of the local skyline, along with some lesser-known stories that surround them.
Visitors can now follow the step-by-step process involved in the creation of the Irton Sword.
A Roman soldier enlightens visitors about life in the area during the Roman period.
A reinvention of three of the museum's flipbook experiences support the telling of fascinating local stories.
A caricature Lowther family tree including pop up profiles of key family members.
A digital dress up interactive allows visitors to try on garments held at the museum from as far back as the early 19th century.
Further interactives are currently under development including a walk through mining virtual reality experience and a step-by-step shipbuilding guide.
Heather Holmes, customer and visitor experience manager, recently took the museum under her wing as part of her role at Copeland Council, she said: "I am delighted to be joining the Beacon Museum at this exciting time.
"The Beacon Sparks project is bringing the museum to life providing a unique and thrilling experience for visitors to enjoy.
"The project aims to revitalise the visualisation of local history modernising our exhibitions and bringing them into the 21st century.
"The breadth of modern technology today is astounding and we're pleased to be able to bring these new experiences to local visitors and those that have travelled from afar."