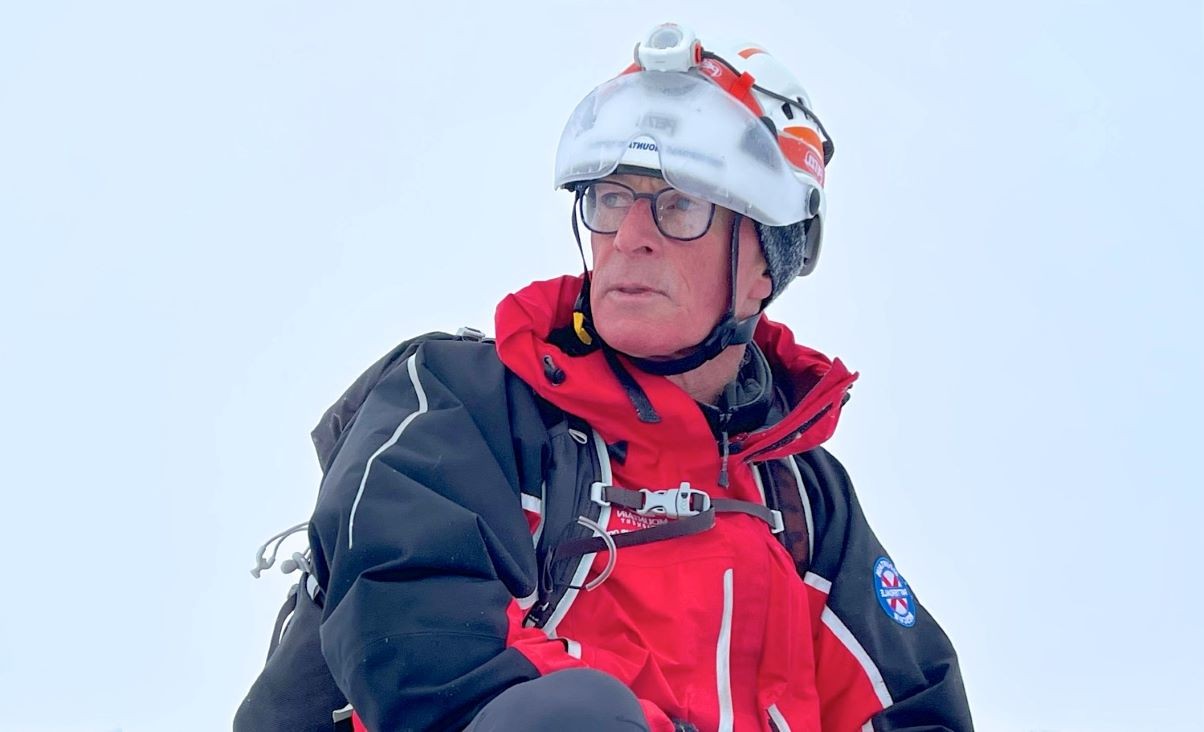 An outpouring of donations and goodwill for Patterdale Mountain Rescue team member Chris Lewis ­— who remains in intensive care following a 150m fall, have been "humbling", said the team's leader.
This morning, almost £740,000 has been raised as part of a fund set up for Mr Lewis, 60, who remains in a "critical, but stable" condition at hospital in Preston with a serious, life-changing spinal injury.
As well as the "absolutely magnificent" financial support from friends, supporters, and the general public, there have also been offers of assistance ranging from house and car adaptations to holiday opportunities and hydra therapy sessions, said Mike Rippon, Patterdale Mountain Rescue Team leader.
"Obviously long-term health care is expensive, so that will go some way to providing for it, but further funding will still be required throughout his life.
"It is a very life-changing and significant injury that has occurred to him," said Mr Rippon.
The mountain rescue team volunteers had been responding following a 12-30am callout on Saturday, February 6, to assist two out-of-area campers who had broken lockdown rules to visit the Lakes.
Following the incident, both men were fined £200 by Cumbria police.
Mr Lewis slipped and fell at Red Screes, near Kirkstone Pass, while on the way to the men's location.
"I was running the incident," said Mr Rippon.
"The worst thing any team leader wants to hear is that a team member has fallen. It's a horrible experience.
"At that point it goes from a normal rescue to a major rescue," he said.
Neighbouring mountain rescue teams, including Penrith, Langdale and Ambleside, were immediately called upon to provide support and the HM Coastguard helicopter was scrambled.
Counselling has been offered to team volunteers as a result of the traumatic nature of the incident, and the fact that they were all on scene looking after Chris before the helicopter arrived to winch him out.
"We understand their might be mental health issues in the future, so we are offering counselling support to help people overcome the stress and anxiety that they may suffer or experience as a result of that rescue.
"We are a close-knit team. We all have wives and children. They will always have in the back of their mind, will our partners and loved ones return?
"We go out and do this on a voluntary basis, so there is all that anxiety now.
"Some members of the team may question whether that's for them going forward in the future.
"We have the younger generation within the team that have seen this first hand, the trauma, and it makes them wonder and worry.
"I do expect to potentially lose team members as a result of this accident. It does have significant consequences for the team."
He added that COVID had also had its impact.
"We have PPE to wear and this was part of the message and the reasons why people were asked to stay off the fells.
"We are here to protect the NHS and it's incidents like this I'm clear in my mind were avoidable," said Mr Rippon.
Mr Lewis had been a member of the team for about three years.
An experienced walker, he is also a member of the trustees.
A spokeswoman for Patterdale mountain rescue team said: "On behalf of Chris Lewis and his family, Patterdale Mountain Rescue Team is immensely grateful for the public's exceptional generosity and the speed with which the initial target of £500,000 for the Chris Lewis Support Fund has been reached.
"It is a real indication of people's understanding of Chris's truly life-changing situation and the long-term clinical and care implications of his injuries.
"To see the support fund, set up through our regional mountain rescue organisation LDSAMRA, pass the £500,000 mark after less than 36 hours is incredibly impressive, and we thank everyone who has made a donation, be it large or small.
"We are going to continue to accept donations for the foreseeable future as a very substantial sum needs to be raised to meet the exceptional costs of Chris's future support.
"It is not currently possible to put a figure on our eventual fundraising target but we know that the support fund will be essential for the rest of Chris's life.
"The background to this tragic accident reinforces the absolute necessity for people to strictly observe the current stay local and stay low guidance.
"And it reminds us all of the risks mountain rescue volunteers and emergency service personnel take every day, and sadly the grave sacrifices they sometimes make."
More than 34,000 people have donated to the fund.
To donate, visit www.justgiving.com/campaign/Chris-Lewis-Support-Fund-LDSAMRA-Patterdale-MRT