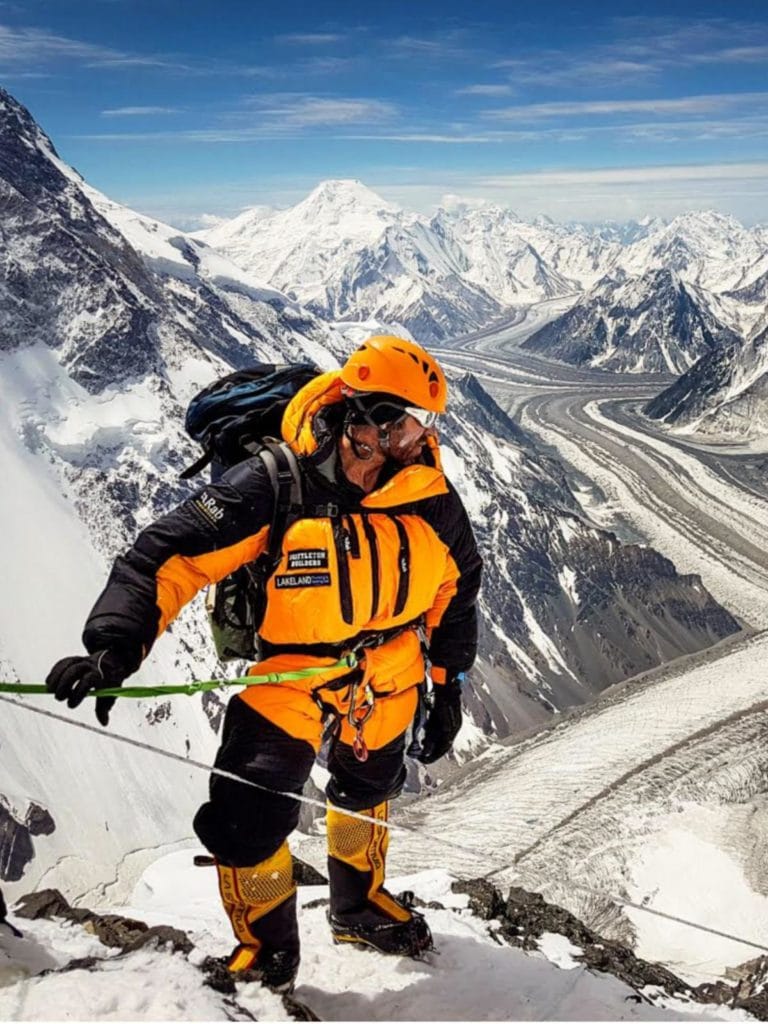 A Cumbrian adventurer who has already scaled Mount Everest is to take on a more formidable and perilous challenge this summer.
Builder Peter Brittleton, 52, of Kirkby Stephen, and expedition guide Paul Etheridge, from Sedbergh, will this summer attempt to battle through extreme altitude and severe cold to become the first Brits to climb Broad Peak and K2 – the world's second-highest mountain.
Both have attempted K2 twice before, in 2016 and 2019, and each attempt to reach the summit was thwarted.
Five years ago a "massive" avalanche wiped out camp three and everybody lost their equipment and in 2019 a big crevasse opened up in poor weather at a "bottleneck" above camp four which forced the pair to retreat.
During those two years, no mountaineers managed to summit K2 which lies in the Karakoram range of mountains, in part in the Gilgit-Baltistan region of Pakistan and stands 8,611 metres (28,251 ft) tall.
"I am very confident about getting to the top this year," said Peter, who runs Brittleton Builders. "I am desperate to get out there to give it another go. It's the last time I will be going out there because I can't keep affording it."
"If I get to the top I will be the oldest Brit to do so and the seventh Brit to summit," said Peter, who got to the top of Mount Everest in May 2008.
"If we do Broad Peak and K2 we will be the first British pair to do the double."
"This will be our third time on the mountain so we know the routine," said Peter, who is a keen cyclist and former fell runner.
"As a mountaineer and climber, I have always had my sights on climbing it, even climbing Everest was always just going to be a stepping stone to climbing K2."
The pair plan to manage and lead the expedition themselves meaning that they will have no support, no sherpas and Pete plans to climb both mountains without oxygen.
All expedition planning and coordination are being done by the pair and they will be using only Pakistani base camp support to assist in the logistics and language barriers.
They will set off on June 10 and face a 120 mile trek to Broad Peak base camp that will take them seven days. Once there they will have 25 days to  days to acclimatise and summit Broad Peak.
It will then take a further 20 days to summit K2 before another seven-day, 120-mile walk out. K2 is considered the most dangerous mountain in the world, for every four people that summit one will die either on ascent or descent.
Broad Peak is a mountain in the Karakoram on the border of Pakistan and China and is the 12th highest mountain in the world at 8,047 metres (26,401 ft) above sea level.
Paul says he asks himself "all the time" what the lure of K2 is and said: "The name of the mountain, the sound of the mountain and everything about it is addictive to me.
"I am scared beyond comprehension when thinking of it. I am petrified of the size of the undertaking but in the same breath totally and utterly fixed on achieving this goal. The planning, the training the expedition is one huge challenge."
He added: "Pete and I are planning everything, right down to each kilogramme we are taking with us.
"We plan, plan and plan some more as the minute we leave the UK we are totally focussed on our goal."
The pair have been invited by Pakistani Mountaineering Associated to provide training for their high altitude porters when they are out there. These men are the elite team of mountaineers and porters who carry heavy loads up to 8,000 metres without oxygen.
"It's a huge honour to be asked to train them and a great addition to our ever-increasing expedition," said Pete.
"Adding a training element to the expedition really does help us focus on the basics of mountaineering along with the ultimate objective."
Pete will be focusing on fitness and mountain training and Paul will be leading on ropework and camp skills in Skardu and Broad Peak base camp.
They are seeking sponsorship for their trip and anyone wishing to support the expedition can email [email protected] and for more information see cumbriatok2 on Instagram.