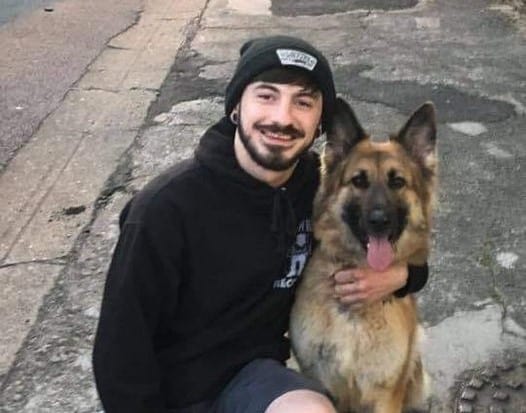 The family of missing Workington man Nicholas Degraff are selling wristbands for charity in his name.
The black bands, which say Nicholas Degraff and 'If I was any better I couldn't handle it' are £2 and all money raised will go to charity in his name.
Nicholas was last seen on December 12 in Great Clifton.
He was due to arrive in Workington, but did not arrive and his dog Leia was found later that day by the River Derwent.
Since the alarm was raised, emergency services and the community have been out looking for the 23-year-old.
His sister Charlotte says it is likely that Nicholas fell into the River Derwent – but his family and friends will never give up searching.
The wristbands, which were organised by Scott Benson, are available from Workington's Little Angels, Vinnie's Bar, JJ's and Re-energise Gym.
Charlotte said: "A lovely tribute to Nicholas DeGraff, thank you Scott Benson for sorting."
Mass searches were launched by emergency services including police, Coastguard, mountain rescue teams and members of the community also joined in.
Nicholas' coat was found in the river and his dog's lead was also recovered, but so far there has been no sign of Nicholas himself.
is sister Charlotte Degraff told Cumbria Crack: "As a family, we have definitely not given up looking for Nic, the police are still in contact with us doing what they can and West Cumbria Missing Persons Search and Rescue are still actively out searching daily.
"We would still like the public to be aware that Nic is missing, especially so that they are wary when out walking by the river from Workington to Clifton and any of the coastal areas."
She added that private divers, who offered their services for free, carried out an extensive three-day search of the river and told the family they were 99.9 per cent certain Nicholas was not there.
A Gofundme page was set up to help the family fund the search and has so far raised more than £18,000.
Charlotte added: "His welding mask is still missing which is a key piece of evidence (he had this in a white Aldi carrier bag). As a family, we are also looking into other resources with the Gofundme money that was raised.
"If there was anyone who spoke to Nic in the early hours of December 12 that has not already told us, please come forward as this could be vital information."
Nicholas is described as 5ft 10in, of slim build and with short, brown hair.
He has tattoos on his face and neck with spacer ear piercings.
He was last seen wearing a black jacket, black jogging bottoms, work boots and carrying an Iceland carrier bag.
Nicholas also had in his possession a 3M SPEED GLAS black welding mask – likely carried in a bag – which would be quite distinctive if found, police said.
Anyone with any other information is urged to report it at www.cumbria.police.uk/reportit or call 101.
To donate to the fund, visit https://www.gofundme.com/f/help-to-bring-nicholas-home
The wristbands are available in Workington from:
Little Angels
Vinnie's Bar
JJ's
Re-energise gym