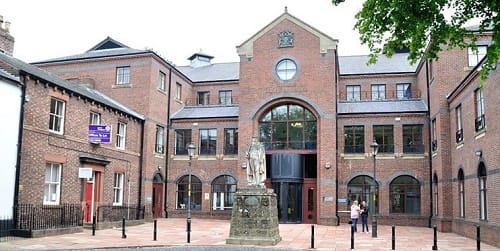 [J]URORS have heard a girl who was allegedly groped by a man tell police that he made her feel "uncomfortable".
David Harrison, a 26-year-old teacher, is on trial at Carlisle Crown Court. Harrison denies four charges, each of which allege that he sexually assaulted a girl aged under 13.
Today (TUES), jurors watched footage of an interview she gave to police.
The girl alleged Harrison "had put his hands down my top". "How does it make you feel when he does that?" an officer asked.
"Uncomfortable," she replied.
This had happened, the girl said, on several occasions. Giving evidence over a video link, she used two small mannequins to demonstrate how Harrison had allegedly placed his hands down the front of her top while sat directly behind her.
Jurors also heard evidence from girl's mother, who recalled how the youngster had rubbed her own chest to describe what Harrison allegedly did. That, the mother said emotionally, left her "horrified".
However, Harrison, of Friars Garth, Abbeytown, denies he touched the girl inappropriately in any way.
The trial continues.