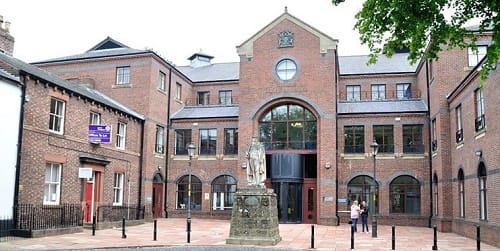 [A] "BLIND" burglar caught red-handed having broken into a derelict former school has been sent to prison.
A police officer sent to Eden Grove in the village of Bolton, near Appleby, saw metal piled up at the entrance along with hacksaw blades and a lantern.
Inside the now-closed residential school for boys was heavily-convicted Paul Anthony Gibson, who was seen to have an "armful" of illegally taken metal pipes.
Gibson, 55, made off when attempts were made to apply handcuffs, and when he leapt over a nearby bridge police had to wade through a river while giving chase.
At Carlisle Crown Court today (FRI), Gibson was jailed for five months having admitted burglary and resisting a PC on August 24.
Judge Tony Lancaster heard the defendant, of Arundel Street, Swinton, Manchester, was "registered blind". A man with 191 previous offences to his name, he had been homeless at the time of his latest crimes after being released from prison.