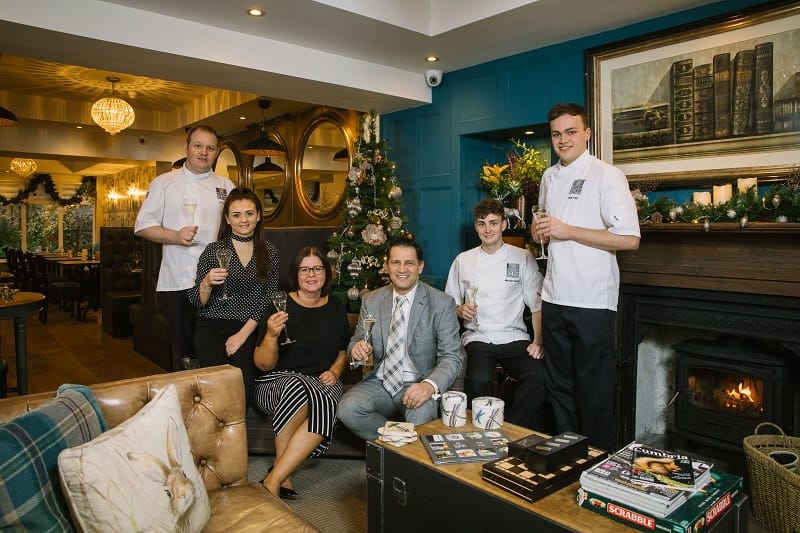 [A] recent addition to the Ullswater Valley food scene is marking 18 months in business with two AA accolades. After opening its doors to guests in May 2016, 1863 Bar Bistro Rooms in Pooley Bridge is celebrating one and half years of business with not one, but two AA awards: four gold stars for accommodation and their first rosette for food.
From a Bistro perspective, this puts the 'restaurant with rooms' into the top 10% of restaurants in the country. The AA Rosette scheme has long been established and successfully recognises cooking at different levels nationwide. The success or failure in achieving Rosettes is based on a single (sometimes multiple) visit to a hotel or restaurant. Essentially it's a snapshot, whereby the entire meal is assessed.
For over 150 years, 1863 has quite literally been a cornerstone of the village. The property is set in the heart of Pooley Bridge, a short walk from the shores of Ullswater. It was built first as the village blacksmith's and later became the post office. Now reimagined for the 21st century, 1863 features a bar, bistro and seven elegant bedrooms. A family business, they say they enjoy getting the little things just right, welcoming guests back time and again to share in a slice of Lakeland paradise.
In 18 months since opening, the young team headed up by owners Anne and Mark Vause have welcomed 'over 15,000 locals and visitors from as far away as Hong Kong and New Zealand have enjoyed dinner in the Bistro while over 6000 have used 1863 Bar Bistro Rooms as a base for a short break to discover the beautiful Ullswater and Eden Valleys and of course the wider Lake District.
In the kitchen, Head Chef, Phil Corrie leads a small, young but talented and ambitious team comprising four chefs with a combined mean age of 20.5 years! Between them they've worked with 23 local, regional and national suppliers to create 115 different dishes plus 46 flavours of ice cream and sorbet.  That equates to over seven menus in 1863's first 18 months, or put another way, one new dish served every three days! To add to that, Chef de Partie, Niall Frith was named 'UK's best Young Seafood Chef' of the year recently in the coveted UK Seafood competition.
Head Chef Phil commented: "I'm so proud of what we've achieved in our first 18 months of business. Recognition in the form of AA awards is wonderful and I'm so pleased that we're really starting to make a mark professionally. But you know, nothing beats seeing new guests and regulars discovering something a little bit different when they eat with us. It's such a pleasure to work with the 1863 team and just bring a bit of culinary enjoyment  into people's hectic lives."
When asked what the next 18 months holds, Phil's not resting on his laurels. The young chef and graduate of Kendal College is focussed on building and expanding 1863 Bistro's reputation both with customers and critics while pushing and developing his young team on the technical front.
Previously known as Elm House Bed and Breakfast, 1863's owners, Mark and Anne Vause, moved to the area from Blackburn in 2008 and spent eight years running the award-winning B&B. In November 2015, the entrepreneurial couple had already made the ambitious decision to close to undertake a £300,000 refurbishment project and relaunch in early Summer 2016 as 1863 Bar Bistro Rooms. Despite the dreadful storms of Winter 2015/16 and ensuing challenges, the establishment opened on time and on budget in late May.
Mark commented: "I still have to pinch myself daily when I think what we've managed in our first year and a half in business. We've evolved from a humble B&B to a 'Restaurant with rooms', expanded our team five-fold and achieved the AA gold standard for our rooms plus our first rosette for food. We count ourselves extremely lucky to work with such a dedicated team both front of house and in the kitchen and, of course, to have such loyal guests who dine and stay with us.
I wait with baited breath to see what the next 18 months bring…."
With a Christmas menu featuring festive-inspired flavours and turkey (but not as you might expect it!), the bistro opens at 6pm daily. Booking is strongly advised for bookings in December. To book, call 017684 86334. Gift vouchers to any denomination are available by calling direct on 017684 86334.  For further information and the Christmas menu, visit www.1863ullswater.co.uk.