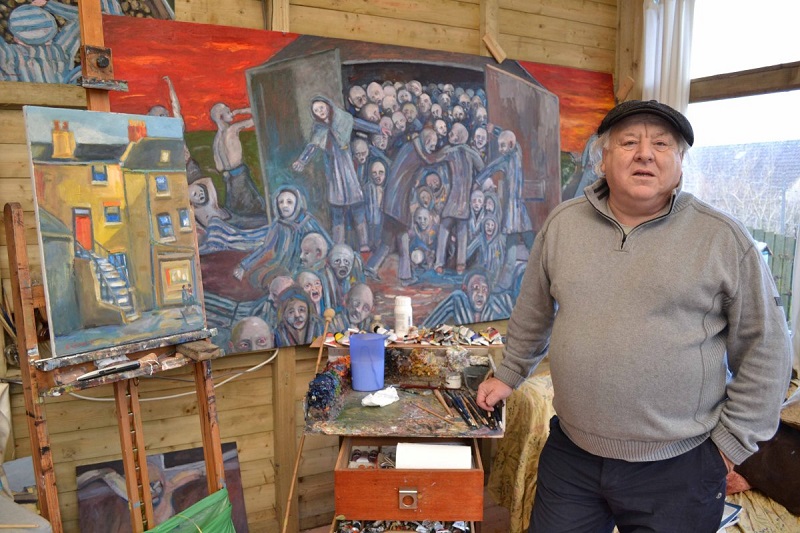 [A] RENOWNED Scottish artist will mark National Holocaust Memorial Day with an exhibition in Whitehaven.
A thought provoking collection of paintings titled Auschwitz: Understanding the Past, Facing the Future will go on show at The Beacon Museum, Whitehaven, on January 13.
Artist Gordon Cockburn will also be hosting an open session from 1pm until 4pm on January 27 to mark National Holocaust Memorial Day, where he will meet and greet visitors and discuss the art work on show.
Based in Ayrshire throughout most of his life, Mr Cockburn visited Auschwitz in 1993 and was profoundly moved by the experience. Mr Cockburn said: "I couldn't get the nightmares out of my head and the only way to move on was to paint.
"I never thought in a million years how far the experience would take me artistically."
Mr Cockburn produced hundreds of individual pieces of art as a result of his trip, in a range of media and styles. A selection of well-known pieces will be on display at the harbourside museum, which have never been shown commercially before.
Alan Irwin, Development Manager at The Beacon Museum, said: "We feel that it would be wrong to shy away from sensitive subjects such as this one here at the Museum.
"Tackling issues such as genocide in a considered and respectful way helps to safeguard our future generations in making such atrocities less likely to happen again.
"Loss of humanity is something very apparent in these images and we want visitors to come to their own conclusions with the work."
The exhibition runs until February 18 and is free for Copeland Pass members. All residents of Copeland can sign up for the pass for free when visiting the museum.
For more information on any of the above contact The Beacon Museum on 01946 592302 or visit www.thebeacon-whitehaven.co.uk.