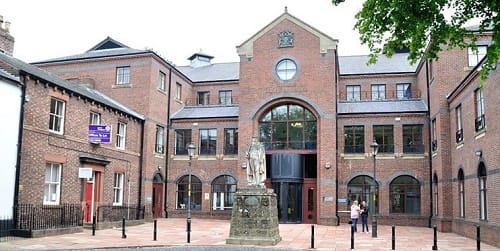 [F]OUR schoolboys have all been found not guilty of raping and sexually assaulting a 15-year-old girl in a Workington field.
The boys, all aged under 16 and from West Cumbria, have been on trial at Carlisle Crown Court during the past fortnight.
Each of the boys had pleaded not guilty to two rape charges, and they also each denied a further sexual assault allegation.
It followed an alleged incident in Workington on the evening of January 3 last year.
This afternoon (TUES), after deliberating for almost five-and-a-half hours and having heard all evidence in the case, a jury of eight women and four men acquitted all of the boys on all of the charges they faced.
As the verdicts were returned, there were tears from some of the boys – all smartly dressed in shirts and ties. They had been sat with appropriate adults in the well of the courtroom, and not the dock, throughout the hearing. Women accompanying three of the boys wept as the jury foreman delivered not guilty verdicts, as did a man who was sat with the fourth boy.
After the acquittals were announced, Judge James Adkin stated: "The defendants can be discharged. If you would like to leave the court quietly now please."
After the boys had left court, Judge Adkin said in a brief address to jurors: "Thank you very much for your careful consideration of the circumstances of this difficult case."
He added: "I know it has been distressing from day to day, and I am very grateful."
A Cumbria police spokesman said: "Cumbria Constabulary has carried out a thorough investigation into this case, working closely with all involved, including the Crown Prosecution Service.
"Whilst the defendants have been acquitted today, Cumbria Constabulary would like to assure the public that it takes accusations of sexual offences extremely seriously and we will continue to investigate any such accusations which are made, whatever the circumstances, thoroughly and professionally."