[Y]ear 9 students from St Benedict's Catholic High School have recently taken part in their annual World of Work Day, giving them an insight into what life will be like after their school education.
Over 180 students spent the day working with local businesses in a variety of tasks which were organised by the school working in conjunction with Inspira.
The event, saw over 30 ambassadors from a variety of different vocations, as well as representatives from Inspira, put the students through their paces in a bid to prepare them for the world of work.
Deb Naylor, Area Operations Manager from Inspira said: "National research has shown that pupils who have regular contact with employers are more likely to get and keep a job when they finish, school, college or university. Young people have never been better qualified, yet employers often complain that they lack the skills and attitudes needed for work."
"Events like the Word of Work days organised together with local schools by Inspira have an important role to play in preparing young people for the future."
The students were placed in 'speed dating styled' Meet and Greet situations, which saw them interviewing a variety of different employers about their chosen discipline and grilling them on the hard hitting questions about their job.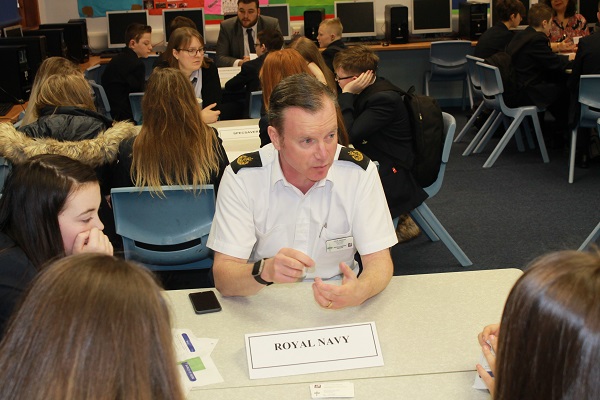 Representatives from firms and companies including the British Army, Royal Navy and the Police, were all on hand to advise students on their vocations and offer them top tips for future interviews and applications. Others businesses from the local area like Energus, Sellafield LTD, Cavendish Nuclear, J Edgar and Son and Copeland Borough Council also took part in the meet & greet sessions.
The day also saw the students involved in workshops with Inspira who ran two sessions with the students: 'Team Building and Communication Skills' and 'The Chocolate Box', which raised awareness of the range and levels of jobs available to young people after education.
Nathalie Hannan, Director of Learning for Year 9 said that the day is key in highlighting to students what skills and attributes are needed to be successful:
"We are very keen that our students gain an understanding of the world of work before choosing their GCSE options and we are committed to giving them the opportunity to meet people from a range of professions, as well as learning about training and what is on offer."
She also acknowledged the many former students who returned to St Benedict's now in the capacity of employee representatives:
"In addition to the many different companies we have welcomed today, it has also been a great addition to have former students return as well. They are a fine example to our current students and show them the wide range of possibilities that are available in the local area."