[T]housands of school children in Cumbria have received expert training in how to ride their bikes safely in the last year, through the council's Bikeability programme, delivered by Cumbria-based companies Cyclewise and Eden Valley Sports Partnership.  Last year the council secured £600,000 of funding from the Department for Transport (DfT) to deliver the training to children in Cumbria for the next three years.
In the 2017-18 financial year, Bikeability training was delivered to a total of 5,733 children in Cumbria across three different age groups and ability levels:
Level 1 – delivered in primary schools to 1,527 children in Years 3 and 4. This level involves playground skills training which lays the foundation for going out onto the road in Level 2.
Level 2 – delivered in primary schools to 4,055 children in Years 5 and 6.  This level includes a 4 day course taking children from the playground onto local roads, learning how to cycle on the road, pass parked cars, perform U-turns, turn to and from major roads, and dealing with traffic.
Level 3 – delivered in secondary schools to 151 students in Years 7, 8 and 9.  This level is aimed at more experienced and regular cyclists to school and involves an intensive two hour course including cycling on busy major roads, dealing with roundabouts, heavy traffic and cycle lanes.
Level 3 training is also taking place during the next fortnight at a number of Cumbrian secondary schools, including Beacon Hill (Aspatria), West Lakes Academy (Egremont), Queen Katherine (Kendal), Ulverston High School, Keswick School, Solway Community College (Silloth), Richard Rose Central Academy (Carlisle), Netherhall School and Workington Academy.  This will be the highest number of students trained at Level 3.
For the next financial year the council has secured £168,510 in DfT funding to support the Bikeability programme.  This will help to deliver a total of 1,366 Level 1 places, 3,872 Level 2 places and 170 Level 3 places.
Cumbria County Council has organised Bikeability cycle training with Department for Transport funding support for more than 40,000 Cumbrian school pupils since 2007.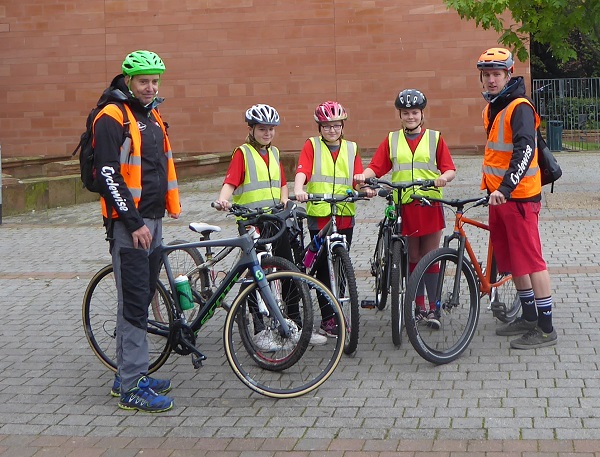 Councillor Keith Little, Cumbria County Council's Cabinet member for Road Safety, said: "Bikeability is essentially cycling proficiency training for the 21st Century, helping young people improve their cycling and road awareness skills. The county council has a strong track record of delivering cycle training in schools with our partners and I'm delighted the council is able support this excellent work."
Councillor Sue Sanderson, Cumbria County Council's Cabinet member for Schools and Learning, said: "Cycling is becoming increasingly popular and it's a great way for young people to be active and stay healthy as well as being good for the environment. Bikeability training teaches essential cycling and road safety skills, and I am very pleased this training continues to be delivered in Cumbrian schools."
More information on the Bikeability programme is available at www.bikeability.org.uk.