[A] LEGEND of the Lakeland fells has urged people to get out and use Cumbria's new local currency, the Lake District Pound.
Record-breaking fellrunner Joss Naylor, from Wasdale, is featured on the new LD£10, which reflects the Lake District spirit of resilience and determination.
On Sunday June 17 the 82-year-old sheep farmer trekked 30 miles from his birthplace at Wasdale Head to Brathay Hall, near Ambleside, a hike which included around 2000m of ascent and raised more than £3000 for the Brathay Trust.
At a celebratory dinner afterwards nine of the special LD£10 were auctioned, raising more than £700 for the charity.
Joss said: "I'd really encourage everyone to get behind the Lake District Pound to make it a huge success.
"Spending Lake District Pounds is a great way of supporting our local communities. It's a fabulous project that will do a lot for the people of Cumbria and I wish it every success."
Joss also signed 20 of the LD£10 and copies of the special edition Lake District Pound Storybook, which will also be on sale.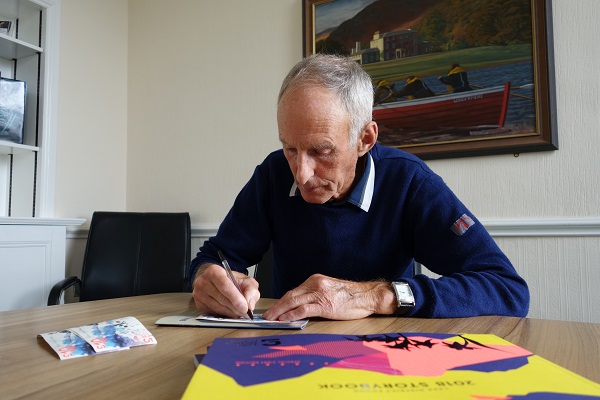 Joss, who has set numerous records during his long fell running career, is the latest high profile figure to support the LD£.
Mountaineer Chris Bonington and TV presenter and walker Julia Bradbury have also expressed their enthusiasm for the project.
Chris Bonington said: "The Lake District and Cumbria, their landscape and people, have a truly unique culture and character that must be protected and enhanced for future generations.
"The Lake District Pound is a fun and innovative way of helping people gain a deeper appreciation of just how special and individual this place is, while at the same time contributing to the future of our landscapes and communities."
Launched on May 1, the Lake District Pound is a local currency which can be spent just like Sterling, but only used in locally owned businesses in the Lake District and Cumbria.
There are currently more than 260 tourist attractions, cafes, restaurants and retailers signed up to the scheme across the Lake District – with the number growing all the time.
Any Lake District Pounds which people keep as mementos create proceeds which the project can split equally between the charities the Lake District Foundation and Cumbria Community Foundation.
Director and founder Ken Royall said: "Every Lake District Pound that people spend in our great local businesses helps support our communities and region.
"It's been really exciting to see people swapping Sterling for Lake District Pounds and spending our local currency over the last few weeks, showing their support for our region and inspiring others to do the same. The project is gaining momentum every day.
"It is wonderful to have the support of legends like Joss, to encourage everyone to get involved and use the currency to help keep our region special."