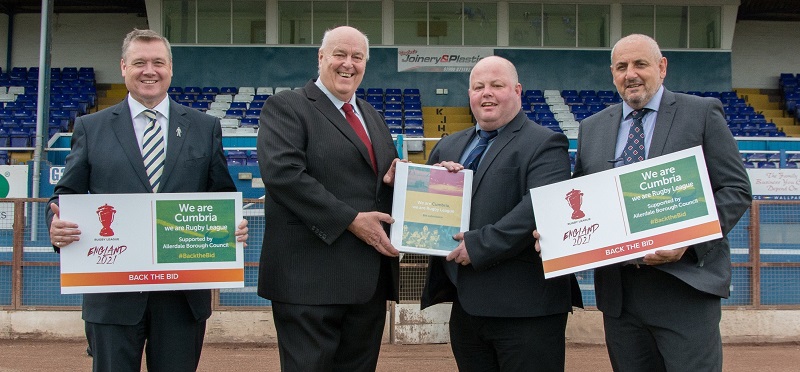 [A]llerdale Borough Council has formally submitted its bid to host the Rugby League World Cup 2021 in Workington.
The Council has been working in partnership with Workington Town to complete the first stage of the application process, and successful bids will be announced by the RLWC 2021 in January 2019.
The Council announced its intention to bid for the RLWC 2021 in early July and asked members of the public and local businesses and community groups for support with a Back the Bid campaign.
Alan Smith, Leader of Allerdale Borough Council, said: "This bid supports the Council's priority of improving health and wellbeing by making sport more accessible to local people through county-wide activities and initiatives. We want to create a sporting legacy that continues well after the World Cup, and this is the first step in achieving this. Hosting the event could also have a significant impact on the local economy, with the potential to bring over £2.4 million to a range of businesses in Allerdale and Cumbria as a whole."
Malcolm Allison, Vice Chairman of Workington Town, added: "I'm pleased that we have now started the process to bring the RLWC 2021 to Workington. This is the heartland of Rugby League, so it makes sense for us to bid to host the RLWC once again. Having successfully held the RLWC here in 2013 and the Four Nations in 2016, we are confident we have what it takes to create an even better experience that will benefit local people and visitors to the area."
Around 150 million people across 115 countries will be estimated to watch the tournament, which will take place in October and November 2021. Plans for a new shared stadium to host the event continue to progress.