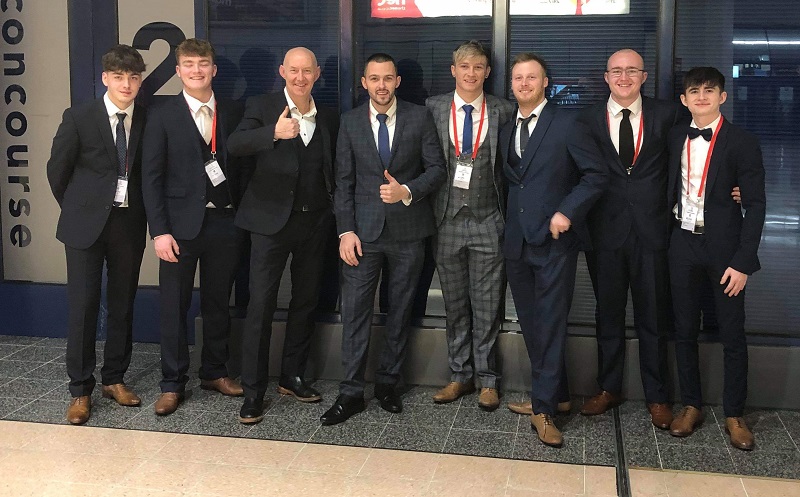 Welding students at Lakes College have once again brought home the top prizes from WorldSkills UK boasting gold and silver medals along with a highly commended prize.
A team of five Lakes College welding students competed at the WorldSkills UK finals in Birmingham representing Lakes College, Cumbria and the North West of England at the three-day skills fest.
Lakes College came top of the table yet again, their fifth time competing at WorldSkills, with Jordan Miller (from Maryport) being awarded the gold medal, Morgan Roberts (from Kirkland) picking up the silver medal and Danny Hills (from Maryport) bagging a highly commended award.
The students battled their way through regional heats earlier in the year to earn their places as finalists in the 2018 WorldSkills UK competition. The West Cumbrian finalists were shortlisted from over 3,000 individuals who registered to take part in the WorldSkills UK competitions this year and made up half of the ten welding finalists from across the UK.
Skills and Apprenticeships Minister Anne Milton MP, who attended the event on Thursday, hailed WorldSkills UK LIVE as 'critical to the future of this nation' and praised organisers for breaking down gender diversity barriers.
The WorldSkills UK competition took place from Wednesday 14 until Saturday 17 November and is the UK championships in vocational skills. The competition runs in partnership with organisations from industry and education, and the competition aims to help people go further and faster in their training and chosen career. Those who excel in the UK Finals could then join the WorldSkills UK training and development programme for WorldSkills Shanghai 2021 – potentially competing on behalf of the UK in the world championships.
Gold medal winning Jordan Miller spoke fondly of his success: "The competition wasn't easy, and working under pressure took a bit of getting used to so I am thrilled to have won the competition. I couldn't have done it without the help of my tutors Clive and Jamie, and Conor (a former Lakes College student and WorldSkills UK gold medallist), so a massive thank you from me to them. I am so proud that my hard work and preparation has paid off and I am thrilled to bring home the gold medal to both Lakes College and Cumbria."
Clive Bell, Welding Lecturer at Lakes College and WorldSkills UK Welding Expert commented: "This is the fifth year that Lakes College students have competed in the welding final. In this time we have achieved one bronze, four silver, three gold medals and two highly commended achievements, as well as scoring the highest score in regional heats. I was very proud to watch our learners compete at the final who all were trained, qualified and gained apprenticeships here at the Lakes College. They have learned many skills here and It was great to see them put them to work and achieve to such a high standard."
Danny Hills and Morgan Roberts will be eligible to compete again next year to compete for a place on Squad UK WorldSkills Shanghai due to the excellent points they received, unfortunately Jordan Miller won't be because of his fantastic achievement with a gold medal win this year.