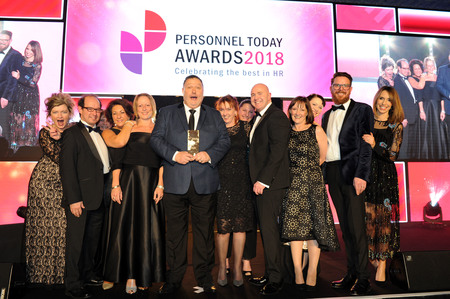 University Hospitals of Morecambe Bay NHS Foundation Trust (UHMBT) has scooped the top award at this year's Personnel Today Awards for a major culture change programme that boosted morale.
UHMBT won the 'Overall Winner Award', having also picked up the 'Employee Engagement Award', in a room of almost 900 HR professionals at Grosvenor House Hotel in London.
After putting what judges described as "their heart and soul" into a comprehensive change programme, the Trust's Workforce Team received praise for driving "palpable" improvements.
David Wilkinson, Director of People and Organisational Development said; "It is a huge privilege to have been nominated for three national awards, but to win the Employee Engagement Award and Overall Winner Award is a phenomenal achievement that recognises how we are building a 'Great Place to Work, a Great Place to Be Cared For'.
"I would like to say a huge congratulations and thank you to the Workforce Team and all UHMBT staff. Over the last five years, an enormous amount of work has focused on creating a positive culture here at Morecambe Bay. The awards recognise the hard work and dedication of all our staff.
"Once again, thank you and well done to all staff and volunteers."
To read more about the Personnel Awards visit https://www.personneltoday.com/hr/personnel-today-awards-2018-winners-uhmbt-overall-winner/