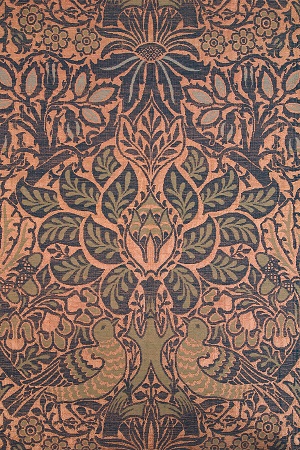 Tullie House has announced that several of its most high-profile Pre-Raphaelite works are going on loan to a prestigious Japanese touring exhibition.
Tullie House is a major lender to 'Parabola of Pre-Raphaelitism: Turner, Ruskin, Rossetti, Morris and Burne-Jones', a touring exhibition which includes 150 works from major UK art institutions including Birmingham Museums and National Museums Liverpool. It is not surprising that Tullie House is featuring so prominently in such a prestigious international exhibition as the museum has a nationally important art collection. Carlisle is one of the few regional centres to hold such a significant collection of Pre-Raphaelite art. The collection is regularly lent nationally and internationally but this is the museum's largest ever international loan.
This presents a unique opportunity to display a number of Pre-Raphaelites from the Tullie House collections.
Highlights include: a portrait of Mary Howard, George Howard's eldest daughter. George Howard, Ninth Earl of Carlisle (1843-1911) was a talented artist and major Pre-Raphaelite patron.
He and his wife Rosalind had eleven children. This portrait is one of eight drawings by George Howard purchased by the museum in 1993 with assistance from Arts Council England / V&A Purchase Grant Fund and the Friends of Tullie House. Also being shown is a large drawing 'The Fountain of Youth', by Edward Burne-Jones (1833-1898).
It depicts the fountain of immortality possibly inspired by a classical myth, a theme Burne-Jones returned to several times. Visitors will also have a chance to view a piece of Dove and Rose furnishing fabric designed by William Morris (1834-1896) in 1879, which is one of 23 woven fabrics designed by Morris, this example hand-loom woven in wool and silk by Alexander Morton and Company, Carlisle.
There will be a limited time to enjoy these works, as they make way for a brand-new display opening on 18 February 2019. Re-imagined: The George Howard Gallery is a co-curated project with Prism Arts and Tullie House. Taking the fabulous historic interior of Old Tullie House and the amazing collections of art, nature and history as the inspiration, the display of objects and stories will re-imagine a secret history of the building.
Project Curator Claire Sleightholm said: "We're very excited to be collaborating with the Prism artists on this project. Our display will show more hidden gems from our collections and present them with a fresh perspective. Tullie House have not co-curated an exhibition in this way before so it promises to be an exciting project for all."
Loans to Japan from Monday 10 December 2018 to January 2020
New Display of Pre-Raphaelite works: Monday 17 December to Sunday 3 February
Re-imagined opens: Monday 18 February 2019