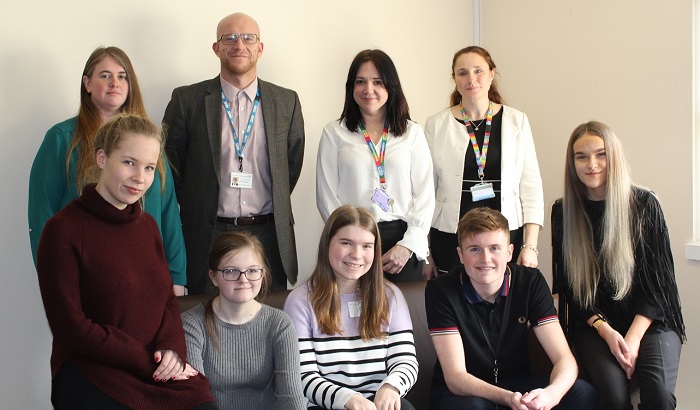 Four ambitious students have now completed their Dream Placement with the NHS in Cumbria in February.
Liam Wright aged16 a student from St Benedict's School in Whitehaven, explained how the week has inspired him: "Thanks for scheduling this brilliant week for me. You have been so helpful and I'm beyond grateful for this opportunity. It has been a fantastic experience, all thanks to you and all the amazing staff at West Cumberland Hospital. This week has really given me a true insight into a career in medicine and has really motivate me to stick in with my studies and do well. I really cannot thank you and the other members of staff enough."
Kate North, Head of Workforce Futures & Inclusion at the Trust said: "Our students were interested in a range of careers including Nursing, Medicine, Anaesthetics and Psychiatry therefore we arranged a varied and individual programme ranging from observing in theatre through to attending lectures, meeting with Executives, Senior Leaders and clinicians.
"This is the 4th year we have supported this programme, having now offered 27 students the opportunity for a Dream Placement in the NHS across Cumbria. The numbers applying for an NHS placement increase every year, so competition for places is tough; with over 200 students applying this year. It has become an important part of our approach to 'growing' our future workforce".
The Dream Placement Scheme is provided by the Centre for Leadership Performance, from the Energus Building at Workington. It gives students an insight into the world of work with a leading Cumbrian employer. It is not just a simple work-experience scheme, students get a unique opportunity to see how the senior teams and leaders of industry go about dealing with the challenges they face. Dream Placement brings together young students of Cumbria with some of the most forward-looking and successful businesses in the county. It is a chance to learn vital leadership skills, boost confidence and see a glimpse of how working life could be in the future.
The Dream Placement celebration event will be held on Thursday 21st March at Energus in Workington. This is a celebration of our young talent across Cumbria and really showcases the work of supporting organisations too!