Members of the Armed forces are encouraged to apply to join our NHS Trusts through a special programme.
Step into Health supports veterans with clinical and health related skills, and those with no formal qualifications, to gain employment in a wide range of roles in the NHS.
Veterans and people leaving the Armed Forces have transferable skill sets required to work in the NHS.
Developed in conjunction with The Royal Foundation and Walking With The Wounded, Step into Health provides a dedicated pathway for the Armed Forces community to access the numerous career opportunities available in the NHS.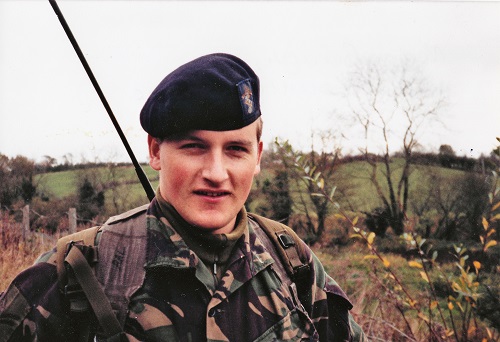 Richard Lloyd served a full career in the British Army and following that he took part in the Step into Health programme in order to begin a career in the NHS.
The programme convinced him that a career in the NHS was perfect for him and he was humbled at how welcome he was made and excited about how the skills he had perfected in the Army could be utilised and transferred to his new role.
In his own words he explains how the Step into Work Programme enabled him to begin to enjoy a second career with the NHS.
"I served in the Army for 28 years, joining as a private soldier, being promoted through the ranks before being commissioned as an Officer. My final post, as a Major, was as Senior Instructor Command Leadership and Management.
"I was fortunate to enjoy a varied, demanding and fulfilling career and honoured to command soldiers on operations in Northern Ireland, Bosnia and Iraq."
"I left the Army in 2012 and moved to the Lake District in Cumbria to set up a small family business, which I'm pleased to say was successful and profitable. However, after four years I was missing being part of a large service team and didn't feel I was making full use of the qualifications and experience I had acquired during my military career.
"I saw Step into Health advertised on the Officers Association website and joined an online webinar to find out more about the programme. From the very beginning I knew that I wanted to get involved so I attended an information day at my closest site, which was Northumbria Healthcare NHS Foundation Trust. This was a hugely positive and worthwhile day, and I left feeling that the NHS truly was my opportunity to fulfil a worthwhile second career.
"As a result of attending the insight day, a two-week work placement was organised at Northumbria in April 2016. This allowed me to experience first-hand the work of NHS managers and explore how the trust delivered its services to patients. The hospitality, support and assistance I received was fantastic. Attitudes towards the military were great and I came away convinced that a career in the NHS was something I wanted to pursue. I was then advised to register with NHS Jobs and look for positions to apply for.
"In July 2016, I applied for the post of Business Manager with Cumbria Partnership NHS Trust. Senior Managers from Northumbria supported with advice for the recruitment process and interview. Two hours after the interview I was offered the post and my NHS career began.
"My role is diverse and demanding and is mostly concerned around business plans, performance, contracts and efficiencies where I find myself involved in a wide range of projects.
"My experience, ability to analyse, prioritise, formulate plans and communicate effectively are core to my role. It is healthy for any organisation to welcome in new blood and fresh eyes and my ability to constructively question issues or propose improvements is accepted well.
"I am extremely happy with my move to the NHS and my family has benefitted from the stability and career potential that it offers. I hope that my impact has been a positive one and I do feel valued and respected within my team. Although I am less than 3 years into my new career, I very much hope to move onto new challenges and roles within the NHS.
"The NHS offers the chance of a rewarding second career. They value the teamwork and selfless commitment that ex-forces can bring and the chance for development, training, promotion is obvious and real. You don't need to have a clinical background as there is such a wide range of roles and services available to you."