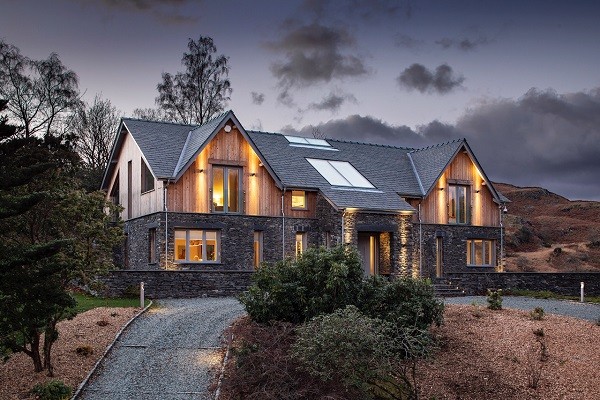 The annual Cumbria Green Build & Sustainable Living Festival throws open the doors next month on a bumper programme of fifty events across the county and beyond.
The festival, now in its fourteenth year, gives residents, businesses and communities the inspiration and practical skills to make real changes to their homes, buildings and lifestyles, to use less energy and live and work more sustainably.
The first of its kind in the UK, it's organised by Cumbria Action for Sustainability (CAfS) and supported for 2019 by headline sponsor by Electricity North West.
"The festival gives Cumbrians a unique opportunity to learn about all different aspects of low-energy building and renovation, and to peak inside buildings that aren't generally open to the public," said festival organiser Nigel Jenkins from CAfS. "The programme, our biggest ever, also includes a wide selection of events to help people reduce their carbon footprint in other ways, too."
More than a dozen private homes will open their doors to the public, giving visitors a chance to hear the owners' real-life experiences of building low-energy homes or renovating existing ones.
"There's a very diverse mix of homes to choose from this year – from everyday terraced homes and bungalows to a former industrial building and a 16th century house, all of which have gone from cold to cosy, saving energy and money for their owners," Nigel said. "Our open homes are a great way to learn about the process and the results, in a non-salesy environment."
For householders and professionals looking to gain hands-on skills or in-depth information, the festival offers a range of courses and workshops on different aspects of low-energy building and renovation – from Passivhaus to lime insulation. There's also the chance to visit a factory that makes airtight, insulated panels for ultra-low-energy homes, which are then erected on site in just a few days.
"Our green build bus tours always prove popular, and we've two this year," Nigel said. "In South Lakeland, we'll visit three locations with green building and sustainability features. The truly unique and fascinating Sprint Mill homestead grows food and keeps animals in a way that protects and enhances the land, and an awe-inspiring personal collection of tools and other items to boot! We'll visit the National Trust's Footprint building, made with straw bale and cob. Our passengers will also experience two community crafts and repair projects, the Big Onion and Simply Repair South Lakes in Staveley."
A second bus tour leaves from Penrith to visit the innovative Lancaster Co-housing development of low-energy homes and communal spaces, including to the Passivhaus standard.
Communities and businesses can find out how they can take advantage of renewable energy to cut their carbon footprint and generate an income for local projects. There's a guided visit to the hydro plant powering the James Cropper PLC paper mill in Burneside, and an insight into community solar with Burneside Community Energy. Penrith will host a comprehensive workshop on renewables for businesses following changes in subsidies.
Food lovers will find a varied menu of events, from workshops on wild food foraging or vegetable growing, to the chance to sample a low-carbon menu and celebrate the launch of a new food share hub.
There are opportunities to learn about repairing and upcycling, with several repair events and a workshop on making pallet projects.
Anyone keen to cut their personal carbon footprint can find out how to do it from nationally renowned author and carbon expert Mike Berners-Lee. Mike will be sharing all the latest knowledge and research from his new book, "There's No Planet B: A Handbook for the Make or Break Years".
Families can explore ways to redesign their lifestyles to be more sustainable, at Danaway Permaculture Homestead near Cockermouth. Structured sessions explore topics ranging from transport, community and food, to repairing and making space for wildlife.
The goods we buy contribute a lot to our carbon footprint, and festival-goers can learn about sustainable flowers at a visit to a Cumbrian flower farm.
"With a growing number of councils across Cumbria declaring climate emergencies, the festival programme includes courses, films, an exhibition and conferences to share knowledge about the climate crisis and how we can respond to it, supporting the drive towards a zero carbon Cumbria," Nigel said.
"We are piloting the first-ever 'Carbon Literacy' courses in the county. This full-day, certified course covers the basics of climate change science, how we know it's happening, how climate change will affect us in the future, what we can do about it."
The regional Zero Carbon Britain Cumbria Climate Emergency Action Summit also forms part of the festival, with a keynote speech by carbon reduction expert Paul Allen, from the Centre for Alternative Technology. Designed for local authorities, community groups working on sustainability and campaign groups, it explores solutions for reducing carbon emissions locally, sponsored by Ecology Building Society.
For film lovers, there are two screenings with discussion sessions, including the seminal climate change film, The Age of Stupid, hosted by Miller Clear Architects, and the new film A Different Kind of Hope, produced by local film-makers.
"The festival wouldn't be possible without the support of many businesses and organisations, as well as our volunteer hosts, and we're very grateful to all of them. I'd especially like to thank our headline sponsor and other main funders, Ecology Building Society, Esmée Fairbairn Foundation, National Lottery Community Fund, South Lakeland District Council and the Community Led Housing Hub for Cumbria and Lancaster."
The events are now open for booking via the CAfS website at www.cafs.org.uk/events.