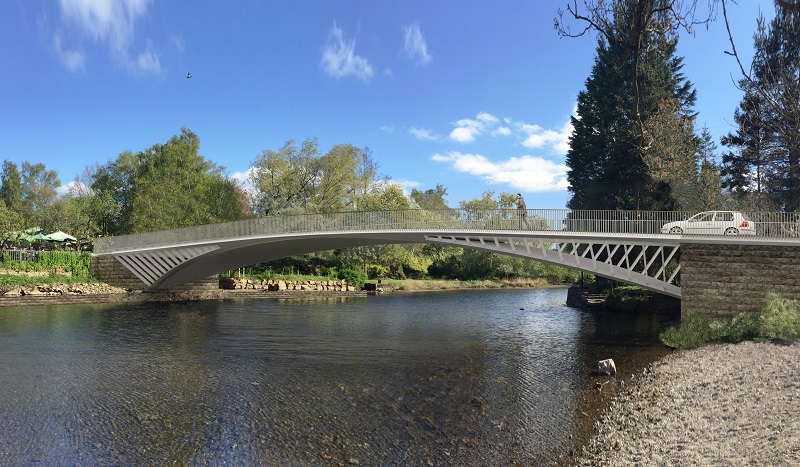 The businesses and residents of Pooley Bridge are a positive bunch. Despite no road bridge for at least six months, they've embraced both the temporary footbridge which opened on Friday 20 September and the challenge of no road bridge with 'gung-ho' spirit. They have worked closely with the Pooley 'New' Bridge project team to create a raft of inventive ways of encouraging people to visit the village over the next six months.
However news that the vital '508' bus link to Penrith via Tirril and Eamont Bridge has been cut by Stagecoach from Monday 23 September has left them disappointed and shocked.
Without warning Stagecoach rerouted the 508 bus service from Patterdale via the A592, with a stop at the temporary car park at Waterfoot. At just under a mile's walk away from the village centre, this will cause real difficulties to elderly residents, employees vital to the village economy and tourists making the effort to travel by public transport.
Whilst Stagecoach have offered the services of both a bus and driver for free twice a day, they still require a maximum of £5000 to underwrite any shortfall. Cumbria County Council have refused to support this on the grounds that it is their policy not to subsidise bus services.
Miles Macinnes, Chairman of Barton & Pooley Bridge Parish Council said: "This is an utter disgrace. I cannot understand why the County Council cannot find the funds to underwrite this.
"They have a policy of not subsidising bus services, yet have paid for shuttle busses for the last few months, most of which have been under used.
"The Pooley 'New' Bridge project costs are budgeted at £5 million – £5000 is a small price to pay to support the community and businesses in Pooley Bridge, Tirril and Eamont Bridge.  It is not just the elderly who rely on this service but also people going or coming to work."
A spokesman for Stagecoach Cumbria & North Lancashire said: "The closure of Pooley Bridge means that the normal route of our 508 Service is not available. We have been discussing this closure with Cumbria County Council for some time.
"Regretfully the diversionary route via Damlain and the A66 to Penrith does not allow us to cover Pooley Bridge, Tirril and Eamont Bridge.
"We have discussed this further with Barton & Pooley Bridge Parish Council and have brought forward a solution that would allow these communities, which make up less than a quarter of total patronage on the route, to maintain some journeys whilst the works progress.
"Despite offering to fund over half of the costs for this ourselves, we asked the Parish Council and County Council to see whether they could provide or attract funding to cover the remainder of the operating costs. Unfortunately it appears that this funding could not be secured. We, like the Parish Council, are disappointed that the County Council have chosen not to support the maintenance of key public transport links during this programme of works."
A Cumbria County Council spokesman said: "Cumbria County Council has, and continues to remain committed to reducing the disruption caused by the necessary work to replace the temporary road bridge. A number of steps have already been taken including the opening of the new temporary footbridge last Friday at a cost of over £350k to the project. The county council also provided a temporary shuttle bus service for users of the temporary car park during the period where no highway link was available to ensure access to and from Pooley Bridge village centre.
"The county council is absolutely committed to keeping Pooley Bridge connected and encouraging people to continue to visit and at every opportunity promotes that Pooley Bridge is 'open for business.'
"The council has also provided a unique way for the community to raise funds of up to £20,000 through the sale of bespoke engraved paving slabs for the new bridge which the public and local businesses can buy, which they can then use to invest in to local projects. The income generated from this initiative could perhaps be used in this instance to subsidise the Stagecoach bus service – this would still leave £15,000 to spend on whatever the community chooses.
"In the case of the Stagecoach withdrawing from providing their 508 bus service, this is a commercial decision which has been taken by Stagecoach. Unlike the temporary shuttle bus service, this is an existing service and unfortunately the council would not be able to provide funding to subsidise this. The council has not subsidised commercial bus services since 2014 due to receiving no funding to do so, but we do continue to invest in community schemes such as Rural Wheels and Voluntary Wheels, which aims to help people get out and about in their local communities. Details of how to access or volunteer for these services are available via the county council website."