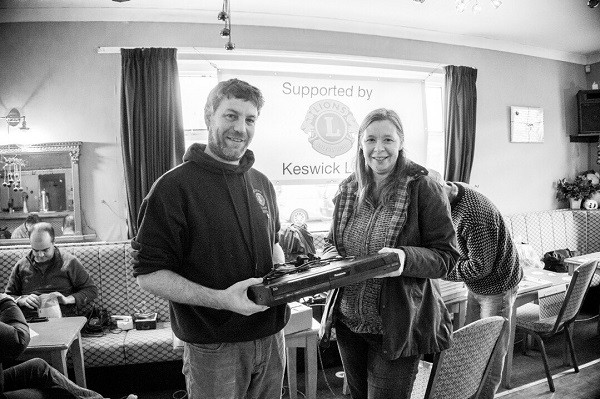 The Repair Cafe in Keswick is approaching its first birthday, and everyone involved is delighted with its success. Repair Cafes are a worldwide initiative which encourages people to try to have their broken possessions repaired by a team of volunteer experts, rather than throw them away.
The idea of setting up a Repair Cafe in Keswick was suggested by Simon Parle and Nigel Hale, both members of Keswick Lions. They visited other Repair Cafes in Cumbria to find out what was necessary, then approached Keswick Lions for support in running the monthly event, and for a small amount of money to buy tools and equipment. The cafe is held in the Riverside Bar of the Conservative Club in Keswick, with refreshments provided by Keswick W I.
Diane Cannon, Lions President said: "Since the first Repair Cafe last year it has developed into a bustling, busy monthly event. There are wonderful volunteers who are delighted to share their expert knowledge, happy "customers" who are pleased to see their possessions mended and ready for use, and helpers from Keswick Lions and WI who help to make everything happen.
"We have had well over 100 items brought along to be repaired, and in 90 cases we have been successful. That's 90 items ready for use, and not going to landfill. The majority of the items are electrical appliances, such as lamps and television sets, but we have things as diverse as looms to swimming shoes." said organiser Simon Parle. "The Repair Cafe has become a community event which people look forward to, and actively encourage other people to bring things along to. Every generation is represented, sharing their skills and knowledge, learning from and appreciating each other."
The café is open once a month on the first Saturday from 10am to 1pm, so come along on the 2nd of November and help us celebrate our 1st birthday, there will be cake and refreshments available, if you don't have anything that need repair but would like to know more about the café this would be a great opportunity to talk to the visitors and volunteers and learn all about us, you might even find you are able to help with a repair. If you would like more information about the cafes and the work they do visit the repair café website or the Keswick Repair Café Facebook page (facebook.com/keswickrepaircafe) alternately email [email protected]