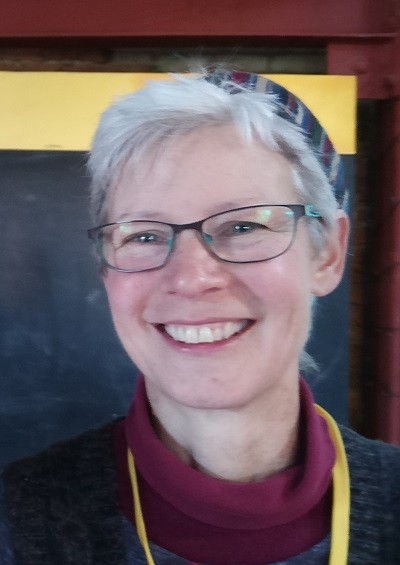 Penrith and Eden Green Party today announced that Ali Ross, Eden District Councillor for Penrith North, has been selected as the party's parliamentary candidate for Penrith and the Border.
Ali has lived in the constituency with her family for 22 years and both her children went to school in Penrith. She has a background in nature conservation and as an environmentalist, for 20 years she ran a local renewable energy business with her husband, and she now works with Penrith and Eden Refugee Network.
Ali was elected to Eden District Council in May of this year. She played a leading role in the campaign for Eden District Council to address the climate and ecological crisis. Working with Doug Lawson, fellow Green Party Councillor, and the other parties that now lead the Council, she was instrumental in its declaration of a climate and ecological emergency in July. Ali believes that the dominance of Brexit on the national political agenda has meant that the threat to the climate and nature have failed to get the attention and action that are urgently required, "It has been desperate to watch years of politicians fighting and the country becoming more and more divided and entrenched over Brexit which, though a vitally important issue, is minor in the face of the existential threat facing humanity and all life on Earth from catastrophic climate breakdown.
"The Green Party was the first major political party to highlight this threat and, while we welcome the fact that other parties are now starting to take the climate crisis seriously, we are the only party that is committed to tackling climate chaos as its top priority."
Speaking about Brexit, Ali said: "The Green Party is a remain party and we have consistently called for a People's Vote to let voters have the final say on their future based on the facts as they are today. The 2016 referendum was flawed in so many ways, skewed by lies and outside interference, and we have been kept in the dark about the real implications of Brexit. However, it is now clear that Brexit would mean job losses, the end of freedom of movement and less protection of the environment. It would allow workers' rights to be eroded and potentially threaten peace in Northern Ireland. This is a very heavy price to pay for a perceived increase in sovereignty.
"What we need instead is more emphasis on the quality of life and equality in our communities. We need more funding for local councils and greater investment in the NHS and schools. And we need new homes to be built that are energy efficient, to tackle both carbon emissions and fuel poverty. I feel that my local knowledge and experience across a range of sectors give me a powerful perspective and would enable me to be a strong voice in Parliament on the challenges affecting our area such as rural transport, a dwindling working-age population and broadband provision."