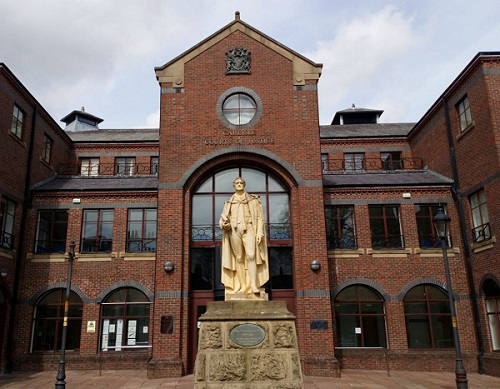 A FORMER Carlisle boxer has been jailed for intimidating a city rival's promoter during a "ferocious" and intimidating verbal outburst which was filmed and posted on Facebook.
Daniel Christie, 34, initially got into hot water when he made inflammatory personal allegations about fellow ex-fighter Derek "Decca" Heggie and his businessman backer George Guest in earlier videos which were shared online.
"This defendant (Christie) and Derek Heggie are former boxers from Carlisle, and used to train at the same gym," prosecutor Kim Whittlestone told the city's crown court this afternoon (WED). Mr Guest, she said, was supporting boxer-turned-actor Mr Heggie in his quest to become a mentor and motivational speaker.
Miss Whittlestone explained: "It appears Mr Christie and Mr Heggie have fallen out, and as a result of that Mr Christie took it upon himself to produce a number of videos."
Christie was arrested by police in respect of clips aimed at the two other men which were uploaded online. But, when bailed, he made another explosive mobile phone film aimed at Mr Guest which was later posted on an open Facebook page, viewed by many users and played in court today.
During an angry six-and-a-half-minute tirade littered with expletives and personal abuse, Christie paces up and down while addressing the businessman directly. Christie vows that, if he sees him anywhere, "I am taking your chin off"; boasts "I am ready, let's go"; and warns: "I will see you in court, Mr George Guest."
Christie was sentenced by Judge Nicholas Barker having admitted a charge of intimidation.
Russell Davies, defending, asked for any prison sentence to be suspended in view of time Christie had spent in custody on remand and subject to a curfew, and the likely deterrence such a punishment would bring.
But Judge Barker imposed an immediate 16-month jail term, describing Christie's latter video as a "ferocious, abusive and threatening rant", and his abuse of the two men as "persistent" and "relentless".
Christie, previously of John Robert Gardens, Carlisle, was sentenced earlier this month after being convicted during a magistrates' court hearing of harassing Mr Heggie and Mr Guest in the earlier videos. He received a suspended prison sentence and community order, respectively, and banned from contacting the two men and contacting or posting anything about them on social media.