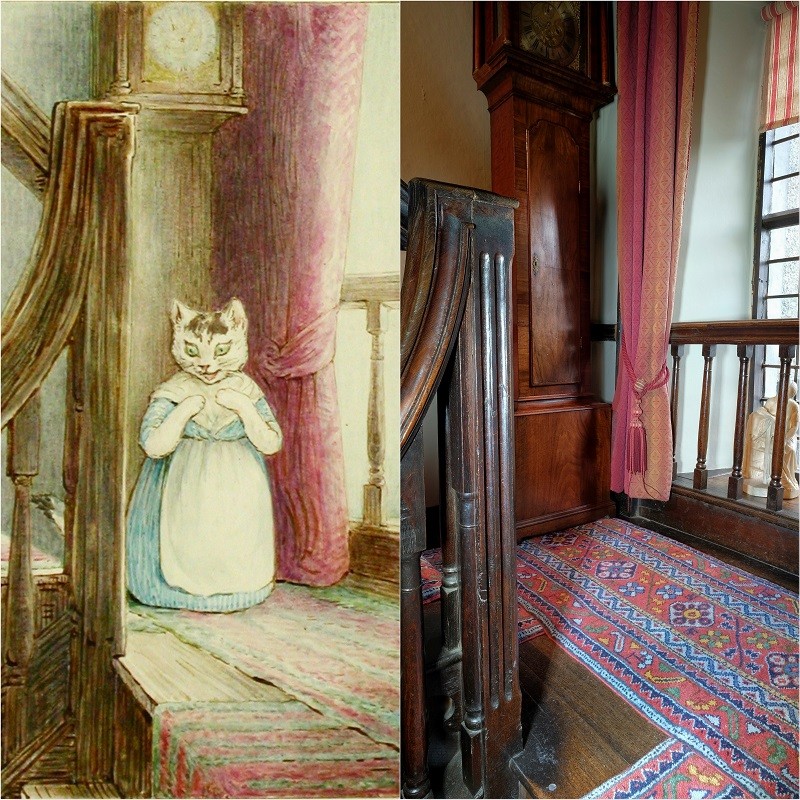 A new handwoven carpet – immortalised in Beatrix Potter's Tale of Samuel Whiskers – has been fitted at the National Trust's Hill Top, the author's 17th century Lake District farmhouse.
The underlay for the carpet was made from Cumbrian Herdwick wool, the sheep breed Potter loved and helped to preserve. Looking closely at the familiar grey of the wool, bits of bracken can be seen incorporated into the pile, from where the intrepid Herdwicks have wandered across the fells. Fitting for part of the make-up of the Lakes that Beatrix loved to roam to be brought back into Hill Top for many hundreds of thousands of her fans to now walk over.
When the National Trust took on Hill Top, there wasn't a carpet on the stairs but as it featured so prominently in the Tale of Samuel Whiskers, the Trust knew there had once been one there.
So the National Trust curator in the 1990s set about painstakingly researching and designing a pattern for a new carpet to be made; recreated based on Beatrix Potter's illustrations from Samuel Whiskers and using traditional Turkish runners and rugs patterns and authentic designs. The carpet was made in Turkey on handlooms and was fitted in 2002.
Not only did it bring back a wonderful, colourful element to Hill Top, but it was a huge conservation success for the National Trust as it protected the original wooden stairs from over 3 million pairs of feet in its lifetime (plus staff, volunteers and celebrity visitors to Hill Top!).
The new carpet has been made by the same company in Turkey and was skilfully fitted by Paul Read, from Highgate Carpets in Kendal, the same local fitter who installed the carpet at Hill Top 18 years ago.
Purchasing the new carpet has been made possible by money raised through fundraising, including raffle ticket sales at Hill Top.
National Trust House and Collections Manager, Liz MacFarlane, commented 'Thanks to the generous support from our visitors in 2019, it is a joy to have this authentic carpet made and now fitted at Hill Top. Where possible we try to support artisans and crafts people who are keeping traditional skills alive both in the UK and elsewhere, so we're thrilled to have local people like Paul doing the fitting, as well as using the traditional Turkish methods for the carpet production.'
To see the new carpet, visit Hill Top, Near Sawrey, open every day 10am – 4.30pm, expect Fridays.